I write a lot about games on this blog but the truth is that there are many days when all we do in class is course book related. It is easy to fall prey to the monotonous rhythm of the book and there is absolutely nothing wrong with it; but I never get a kick out of doing the exercises the book suggests and I might be wrong, but I don't think the students do either. And I, for a start, need this kick to keep me going.
So, from time to time, I like to give them games that will not only engage them but also help them fix previously studied content in an attractive way.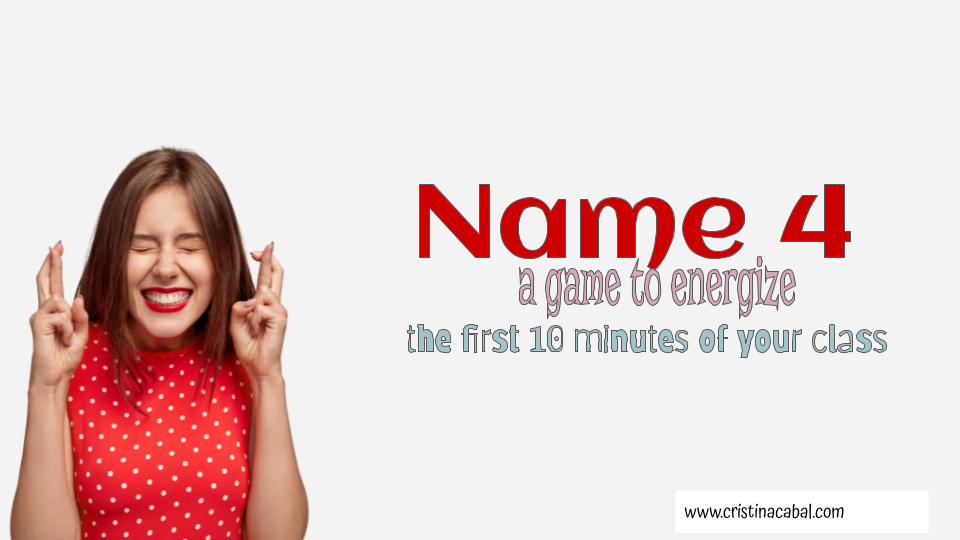 The game I am sharing with you today is called NAME 4, and the aim is to revise content studied in this course and mix it with some easy bits and bobs from previous courses.
I have created the game in Genial.ly. If you don't want to create your own, you can easily edit mine and write your own categories. Also, in each slide I have placed a countdown timer. The time allotted for each category varies. If you need to modify the time, you can  find numerous countdown timers on YouTube; you just need to write "X seconds countdown"in the search box.
I have used the same template for C1 and B2, slightly varying the categories.
All the instructions to play the game are on the second slide. We had great fun so I really encourage you to give it a go.
GAME FOR C1 STUDENTS. Click on the three dots … to enlarge the presentation

GAME FOR B2 STUDENTS.Click on the three dots … to enlarge the presentation