I get it. Writing test. These two words don't look super inviting or inspiring, but trust me, if you follow these tips, it might help you pass or, at least, enhance your writing skills.
I think we have already discussed here at length my obsession with using the vocabulary and structures that I teach in class. That's non-negotiable. You have to use them. So, I am not going to beat about the bush here and I am going to state the obvious, the two most important tips are:  study and practise. As much as you can. But you already know that, don't you?
Once we have agreed on these two tips, these are the ones I give my own students. Some students follow them. Some don't. Some try  🙂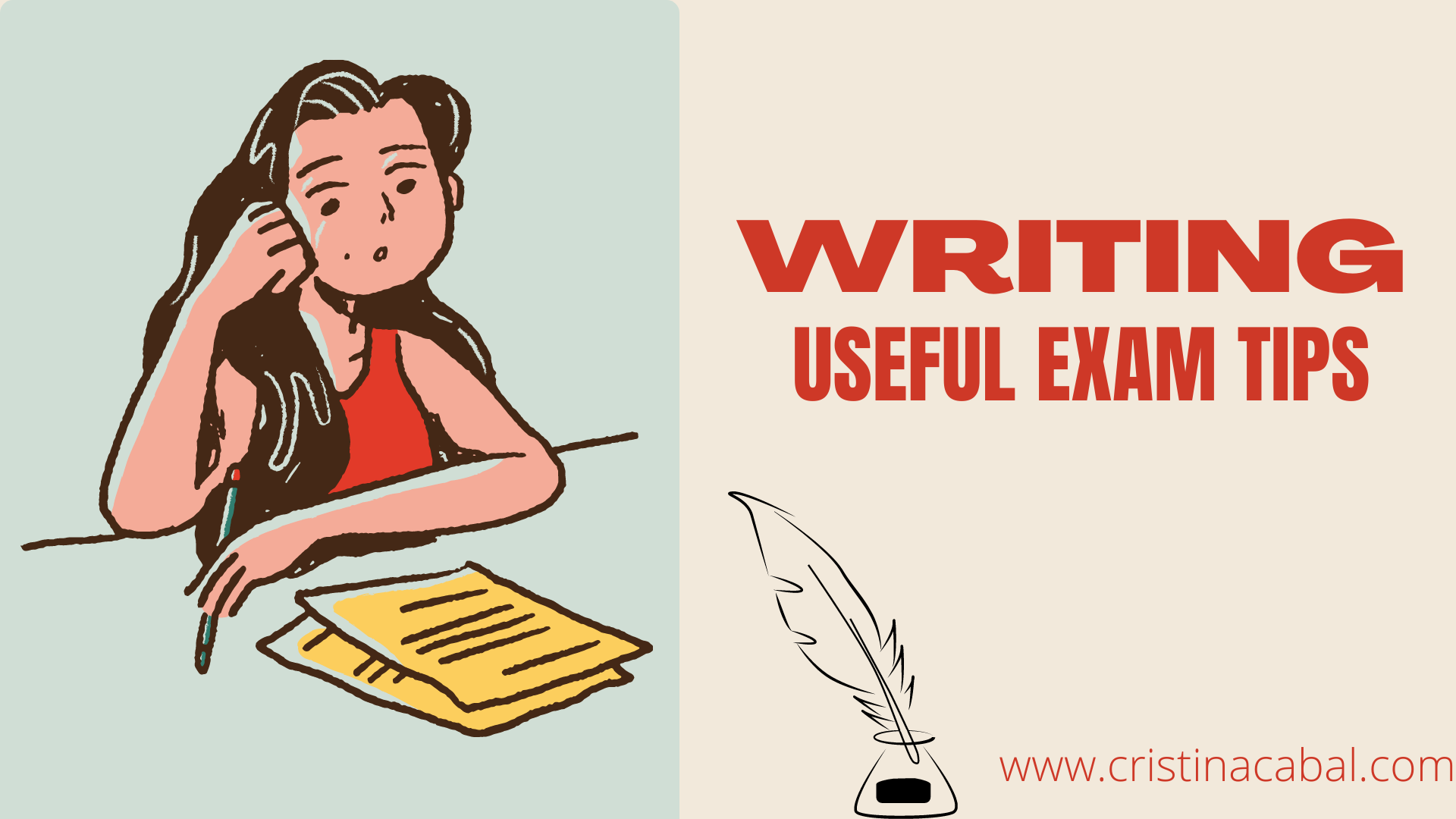 Don't start writing straight away. Spend about 10 minutes getting ready. You might grow anxious and think this is a waste of time. It is not. In fact, in my humbe opinion, it should be mandatory. Use these 10 minutes to plan what you are going to say and how you are going to say it.
So, you are given the task. Now what?  

Identify the task. It is very important to read the information in the task carefully,

underlining

any keywords or any questions you are being asked to answer. Identify the topic: is it about sports, work, holidays?

Identify the audience. Who is going to read it and what language do you need to use? Can you use informal language because it is an informal email or maybe a post for a blog or do you have to use formal language because it is a formal letter or email or maybe a report? 

Now that we have clearly identified the topic and the kind of task we have been asked to fulfil, spend some time doing some brainstorming.
Ask for some draft paper and brainstorm…
Vocabulary

. Make a list of all the specific vocabulary you remember about the topic (that includes phrasal verbs, collocations, idioms…, etc) The teacher will be looking for specific vocabulary related to the topic. Make sure you use a wide range of vocabulary. As you start writing, find a way to naturally introduce this vocabulary.
Grammar. Make a list of all the grammar and structures you want to use. The teacher will be looking for a wide range of grammar and structures adequate to the required level, but make sure you sound natural and communicate clearly. If you overuse structures or "force" the use of others just to show off, it might have the opposite effect, as it might be inappropriate and possibly confusing.  For example, if in this course you have learned

perfect modals – might have worked-

try to use them in your essay;  or if you have learned inversions, try to use them, but do not use 3 or 4 inversions just because you know them. It would not sound natural.

Connectors and Linkers.

Make a list of connectors and linkers you want to use to contrast different points of view or join ideas. Remember that you will be required to elaborate on your ideas. Words such as " and" or "but" are fine, but you are not going to impress the examiner by using these very simple linkers. 
Ideas. Finally, brainstorm ideas and choose the strongest ones and the ones you feel most confident developing.

Clear paragraphs. Now you are ready to begin writing your draft. Organize your essay into clear paragraphs 
Introduction

Body ( here you can have 2, 3 or more paragraphs)

Conclusion
A good idea might be to start each paragraph with a strong idea and then elaborate on it,  making sure you back your idea or opinion with reasons and examples. 
New idea, new paragraph.

Have you written your draft? Awesome! Now, reread it and consider adding:
–Adjectives to add colour to your work. For example, if you are describing a house, you can write "an elegant house" or "a red-brick house"; if you are writing about "work", you can modify it by saying " challenging work" or "rewarding job". My favourite website for this is Ozdic
–Adverbs:  you might want to introduce some sophisticated adverbs such as: remarkably, noticeably…etc
-Strong collocations: have some up your sleeve in case you have the chance to use them. For example: take for granted, draw an audience…etc

Carefully proofread your essay before handing it in. Make sure you check your work to avoid making obvious mistakes:
spelling mistakes

subject-verb agreement

singular-plural agreement,

punctuation …etc
Llast tip? Read it to yourself. If it sounds confusing to you, imagine how it would sound to the teacher. You still have time to rephrase what is not clear.
Now you are ready to write your essay on the exam sheet. Be extra careful when copying from the draft. I have found that students when copying from the draft if in a hurry, tend to make spelling mistakes. After all this effort, you don't want to do that. 
I hope these tips help you and you score high on the writing test. Best of luck!