Naturally, I am a huge supporter of any activity that involves students getting out of their seats and interacting with other students. Also, if you have been reading me for a while, you will surely know that I am always worried about making vocabulary stick.
So, this super simple activity combines these two things+ zero preparation. How does that sound? Yes, I know. Besides, it's compatible with any topic you are working with. Believe me, this activity is a hit.
There is a 99% chance that you will end up participating in the activity, but please, do not get all proper and spoil the fun by telling students to keep their voices down. Let them enjoy.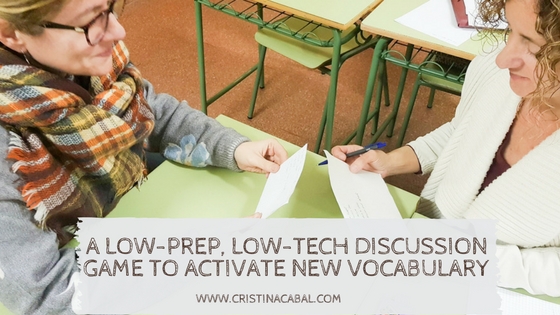 Aim: to make vocabulary stick by revising, reinforcing and using it.
Topic: Any. I was working with the theme of environment, but any topic would do
Level: Any.
How to go about it
Revising.
1. Revision with slips of paper. Start by revising the vocabulary you have introduced in previous lessons. I usually write the vocabulary I need to revise on slips of paper, place myself in the middle of the classroom (desks are arranged in a U shape) and very quickly give a short definition, synonym or antonym. The student who guesses correctly gets the slip of card. The winner, as you might have guessed, is the student who has more cards at the end of this activity. I do this activity very often. I think I like it because I can see that my students love it and it is a good exercise not only to revise meanings but also to work on pronunciation.
Writing.
2. Writing 5 newly- acquired words. Ask students to write on a small scrap of paper 5 words they have learned. If they have learned "make the most of" for example, encourage them to write the whole expression and not just "make the most ".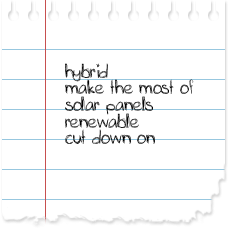 Speaking
3. On the board, write a question for the students to discuss in pairs.
4. Tell the students to stand up with the scrap of paper containing their words and choose a partner to talk to. They can sit down if they want to or they can remain standing.
5. Ask them to swap the pieces of papers and read the 5 words on it making sure they know what they mean. If they don't, they should ask their partner to explain or clarify meanings
6. Point to the question on the board and ask them to discuss it trying to introduce as many words as possible from their list of words. Allow 4 or 5 minutes to discuss this question.
7. Important step: Ask students to swap lists again before asking them to stand up and find a new partner.
8. Write a new question for discussion on the board. Ask students to sit down with their new partner, swap the scraps of paper and repeat procedure.
My students said they loved the game! Let me know what your students think if you decide to give it a go.
Follow us on Facebook and on Twitter