I know, I know, there is more than one blog post about unusual traditions here, but there are so many of them and they are so much fun to listen to.  Who doesn't like being told about a totally surprising or creepy custom? It's like when you were a little child and liked being told stories about far-away places filled with strange characters doing the most extraordinary things.
Well, this is how I feel when people tell me about unusual customs around the world.
So, whenever in the textbook I am following there is a slight reference to unusual traditions, I jump at the opportunity to do something with it.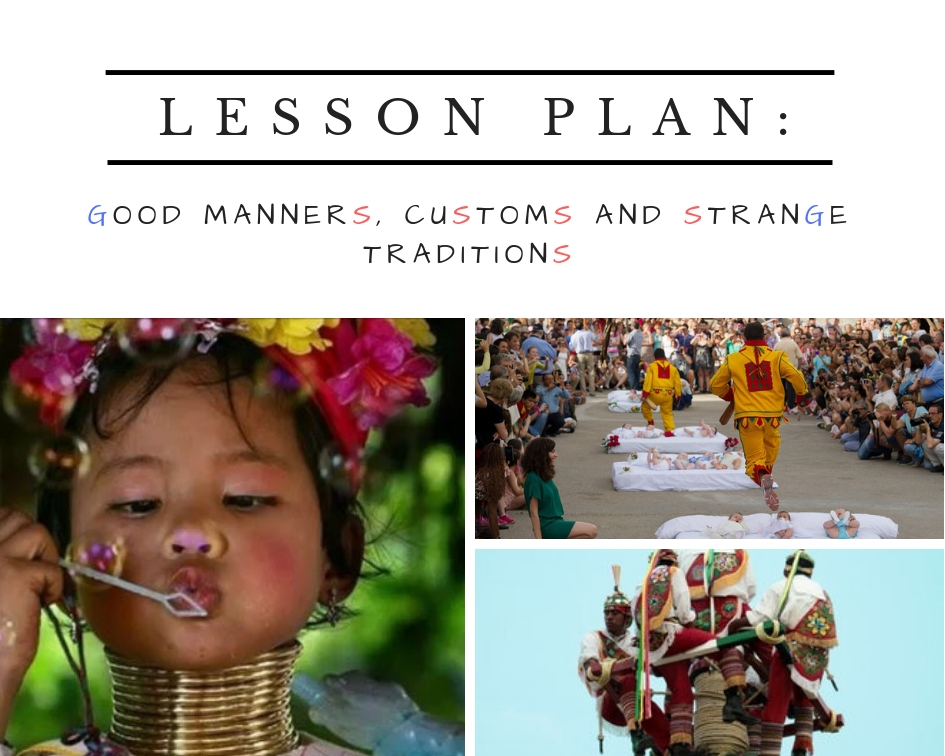 In this lesson aimed at B2 students, you'll find:
 Two texts about unusual customs
 A video about unusual customs with Ellen Degeneres telling the story. By the way, one of them a surprising Spanish custom I didn't know about.
 The quiz : What nationality are your manners?
 How I use Google slides for collaborative projects
In this lesson, students will have to:
Read a text about an unusual custom and retell their partner – (aimed at improving reading and speaking abilities)
Answer a few questions or summarize the traditions heard in the video (aimed at improving listening abilities)
 Learn vocabulary and comment on different manners around the world by doing the personality quiz "What nationality are your manners?"
Use technology in a collaborative project (aimed at improving students' digital competency)
Give a speech of about 3 minutes about an unusual custom around the world (aimed at improving students' speaking skills)

Lead-In : Speaking
Display the picture below and ask students in pairs to comment on it. After a couple of minutes, get feedback.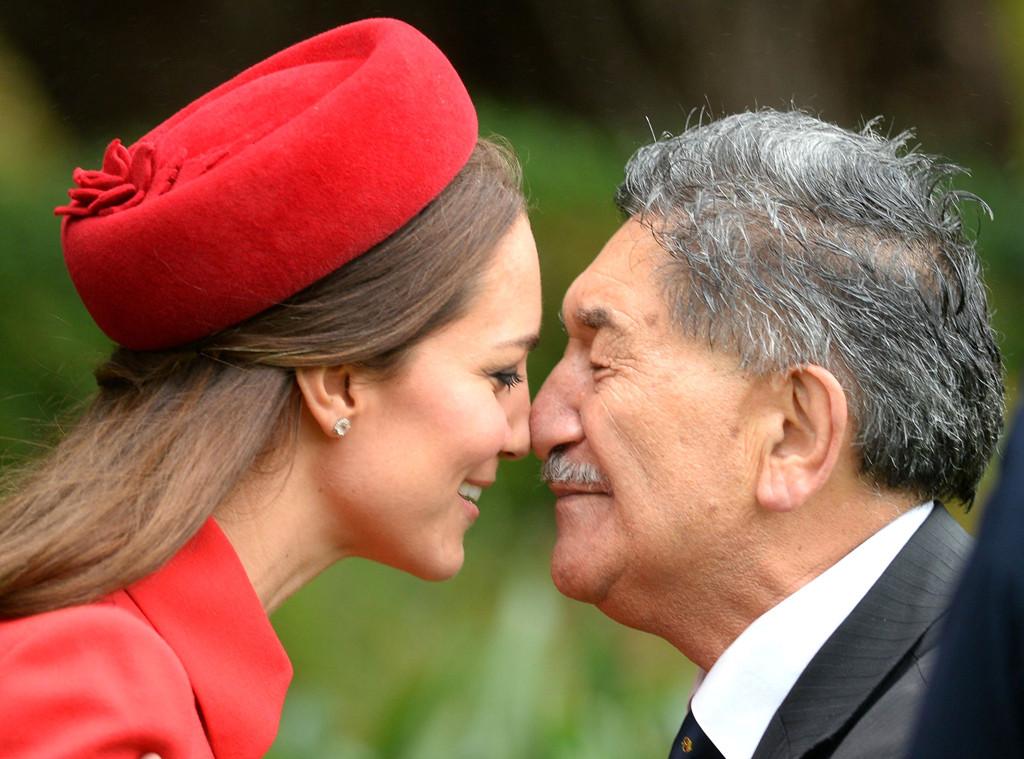 There is always someone who has read or knows a bit about this custom, mainly because every single time a member of the British Royal family goes to New Zealand this is the most popular picture to take. In case they know nothing about it, you can tell them this is the Maori way of greeting people, called Hongi. It is used at important ceremonies. Through the exchange of this greeting, one is no longer considered a visitor.
Have a brief conversation about the etiquette of kissing in your country
Listening: Odd Traditions Around the World (0:00-2:06)
If you have been reading this blog for a while, you'll probably know that I'm a big fan of Ellen Degeneres. Write her name on the board and ask students if they know who she is. Tell students they are going to listen to a short extract from Ellen Degeneres show about Odd Traditions around the world.
Note: I have only used the first two traditions (0:00- 2:06 ), the third one is way too weird for my taste.
Write Groundhog Day on the board. Tell students this tradition will be mentioned in the video, but they will learn more about it in the next activity.
There are no questions here. The first time you play the video, students will be required to write down the names of the two festivals. The second time, they will have to explain everything they have learned about the two festivals.
Reading about Two Unusual Traditions. Retelling.
Ask students "Have you heard about any unusual traditions in your country or around the world? Ask students to talk in pairs and get feedback
Ask students to work in pairs. Student A will get a copy of Groundhog Day (American tradition) and Student B, a copy of Guy Fawkes Day (British tradition).
Give them some minutes to read it a couple of times and then,  in pairs, ask them to tell their partner about their tradition in as much detail as possible.
Guy Fawkes PDF, Groundhog Day PDF
Speaking: Giving a short speech about an unusual celebration.
The only thing probably worth mentioning here is the fact that we have used Google Slides to work collaboratively.
I am a very visual person. I do not want to imply that listening to my students' speeches is boring, but I cannot deny that it is much more pleasant to look at some pictures of the tradition being described while listening to the students' performances.
Problem? Every student will bring their own flash drive, we will need to Insert the flash drive into the USB port on the computer, run a virus scan …. etc and this takes time. A lot of time.
Solution? I created a Google Slides Presentation, used the first two slides to give instructions and then wrote the names of my students on the slides. One slide per student. I shared the URL with Edit permissions and asked them to, instead of their name, write the name of their festival and then insert a picture below it.  Problem solved.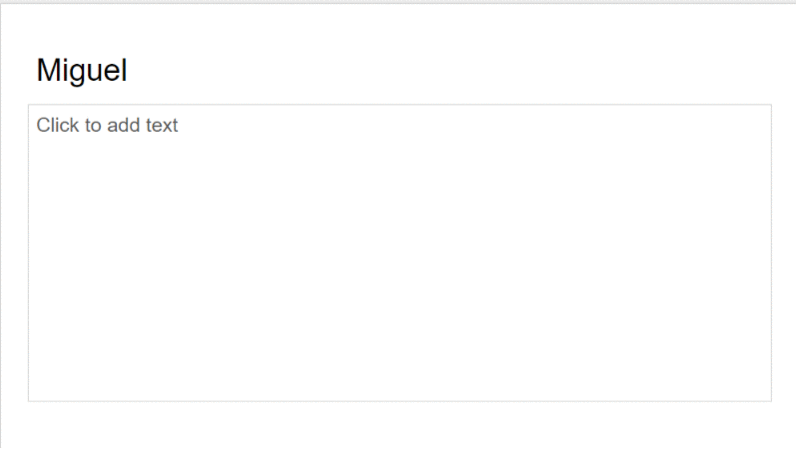 A speaking Activity Using the Quiz: What nationality are your manners?
This fun quiz contains some very interesting questions which can spark a lot of discussion in the class.
Do the quiz with the whole class.  Display question number 1 and ask a student at random to choose the answer that is true for him.  Ask the whole class to discuss some of the other options.
Find the quiz here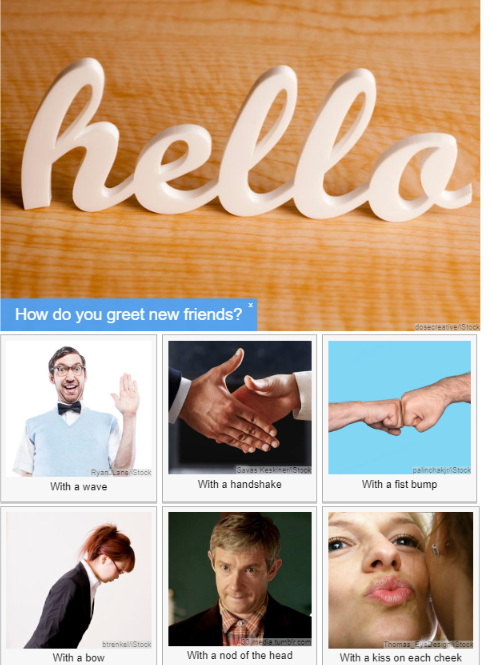 I hope you have enjoyed the lesson!