Who doesn't like music? Today I am inviting you to take a glimpse at the Top Ten Musicals in London. Tough  job to choose one ! A video-based lesson you'll positively enjoy!
Level: B1/B2
Skills :listening, writing and vocabulary
Step 1. WARM UP. In pairs, talk about the questions below
♥How important is  music in your life?
♥Have you ever been to a musical show? Why(not)?
♥Do you know  any famous musicals?
♥There are lots of things to do in London, would you consider going to a musical?
Step 2. Look at the following collage containing pictures of different musicals. In pairs, can you identify any?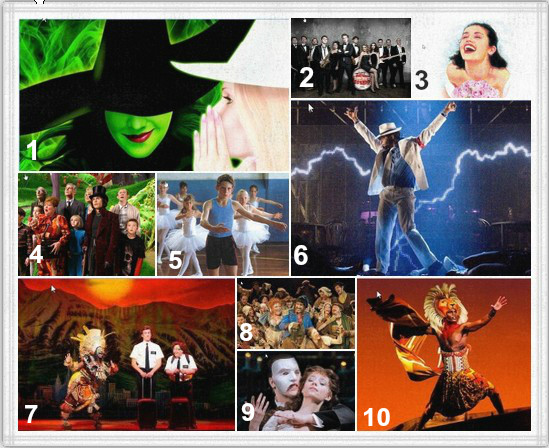 Get feedback. Most possibly students won't be able to come up with the names for all the musicals. If this is the case, show them the options below.
A. The Lion King
B. The Phantom of the Opera
C. Wicked
D. Mamma Mia
E. Thriller
F. Billy Elliot
G. Les Miserables
H. The Book of Mormon
I. The Commitments
J. Charlie and the Chocolate Factory
Step 3. Play the video  for the first time without giving students any task.After watching it , ask them whether they  would fancy watching any of these musicals. Students watch the video a second time  and fill in the gaps in the exercise below
Number 10. Charlie and the Chocolate Factory. Grab your won golden ticket and step inside the ____ (1) and wonderful Wonka Chocolate factory
Number 9. The Commitments.Originally a novel, then a hit movie, this musical is jam ____ (2) with classic soul hits
Number 8. The Book of Mormon.From the ____  (3)of South Park, this outrageously funny musical is not for the faint -hearted
Number 7. Les Miserables.An epic tale of broken dreams, passion, ____ (4) and redemption
Number 6. Billy Elliot.The ____ (5) story of a boy's struggle against the odds  to become a ballet star
 Number 5. Thriller Live.The spectacular show takes you on an electrifying journey through Michael Jackson's musical ____ (6).
 Number 4.Mamma Mia. Abba's  timeless songs create the ultimate feel-good tale of love , laughter and ____ (7)
 Number 3. Wicked.The untold story of the witches of Oz has won 90 international awards and is loved by ____ (8) and critics.
 Number 2.The Phantom of the Opera.Andrew Lloyd Webber's  musical ____ (9) continues to captivate audiences
 Number 1. The Lion King.Set in the Serengeti, this epic show explodes with glorious colours, stunning effects and  ____ (10) music
 Step 4. Vocabulary. Find a synonym for the following words in the video
-ageless
-impressive
-strange
-fight
-located
-prize
-full
 Step 5. Writing . You've been asked to create a poster to advertise your high school end-of-the-term musical.Use postermywall.com to create the poster and think of something to say about the musical to attract an audience . Use some of the adjective+noun combinatios below
Mapa Mental creado con ExamTime por cristina.cabal