Today I'm really happy to introduce a guest writer to you. Angeles Jimenez is a friend and fellow teacher from EOI Oviedo and, in this blog post, she will be sharing with us an excellent communicative game to consolidate the use of present perfect simple and past simple. Ready for a lot of fun!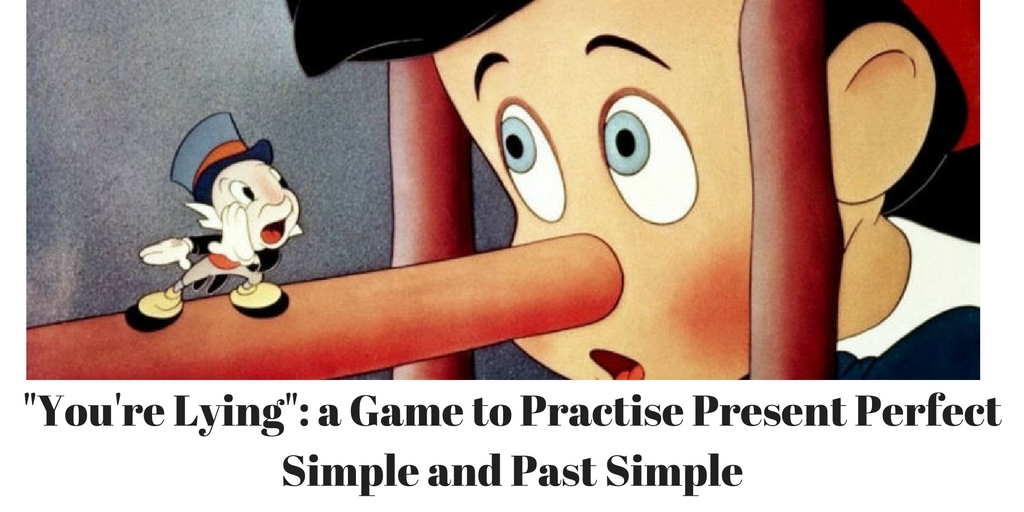 Do you want your students to keep their noses in the course book? Don't read on then.
Going into a new class on the first day can be a little bit stressful both for teachers and students. Teachers get ready to greet their students, anxious to get started, and learners are nervous wondering what is to come. That's why it's important to have a first day of class that will set the tone for what the course will be like. And it will be FUNtastic!!!
Games for getting to know one another can be an excellent way to establish a stress-free environment in the classroom. Let your students know that they're welcome in order to put their insecurities aside, try to make them feel comfortable participating. They'll have fun learning English in no time!
The "You're lying "game lives up to its name.
It's a fun game which works very well at the start of the term as a 'getting to know you' kind of game. Teenagers love it because they don't feel like they're learning, and advanced students love it because it's a break from the monotony of learning with serious assignments.
It's also a great way to consolidate the use of the present perfect tense to talk about experiences and the use of simple past to ask follow-up questions.
Language point: Present perfect tense and simple past
Organisation: Pair work
Level: This speaking activity is designed for advanced levels.
Materials: One copy of "You're lying: student A" for half of the students in the class and one copy of "You're lying: student B" for the other half of the class.Pdf here
Aims: To present the present perfect tense (have + past participle) with the function of talking about past actions. Students should be able to recognise that the present perfect and the simple past are both used to talk about a past action but the present perfect is used when the time is not stated and the simple past when the time is known.It works well as an ice-breaker for C1 students since it requires some previous knowledge of verb structures and some command of vocabulary.
For B2 students some warming up may be necessary.
You could begin the lessons by speaking about your own experiences in a general way. Be careful not to give any details about these experiences. In other words, keep to the present perfect. For example:
 I've been to many countries in my life. I've been to Italy and I've visited France, Germany, and Switzerland. I've also driven a lot in the United States.  
Ask students to ask you questions about the specifics of some of your adventures. On the board you can draw a time line and point when they took place. Students will hopefully be able to catch on fast and keep to the past simple.
 How to play
Students are invited to lie to their opponents, something which they usually tend to enjoy! The more detail the students can give in their answers, whether invented or not, the more convincing they will be.
Put students in pairs and give them A and B handouts.
Students ask each other "Have you ever..?" questions. Remind them they must answer all the questions with "Yes".
Student A asks student B a question using the Present Perfect. Student B must answer "Yes, I have".
Student A can then ask them 3 "Wh" questions in the Simple Past and try to spot from B's answers (sometimes body language ) if their opponent is lying or telling the truth.
If student A guesses, then he / she gets the point. If he's been fooled, then student B gets the point.
The winner is the student with the most points. They could also start with a maximum number of 10 points. Student A subtracts one point if he / she fails to guess whether B is lying or telling the truth. Student B substracts one point if Student A guesses.
For more advanced learners, this is a great opportunity to bring in modal verbs ("That must be true, it can't be / have been true because…")
 Why does this game work?
Because students tend to remember more when they are relaxed and enjoying the activity. It's also an easy way to encourage quiet students to get involved too!
It makes it a lot more fun if they think of facts that may trick or surprise others so tell them to be creative.
As a follow-up they can also write five sentences about themselves and then get into pairs or groups and repeat the interrogation. Have fun!!