I am sure this super engaging activity about comparatives is just what you need this week.  I am very pleased to have on the blog this week a guest post by colleague  Ángeles Jimenez, from EOI Oviedo, who from time to time, saves my a** by sending me some of her creative activities. This is one of them. I hope you like it as much as I did.
Thanks, Ángeles, the floor is all yours!
"Comparisons are odious" says the old proverb, but the truth is that the more you practise, the faster your English will improve.
Every time there was a new grammar point to teach, my B2 students rolled up their eyes in desperation when I handed out another worksheet.
I began to look for new ways which would help me revise the comparative structures at a more advanced level, activating my students' imagination at the same time. Although I had planned for it to be a brief and fast-paced revision, it turned out to be one of the most effective and engaging grammar lessons in a while – some students got very creative!
WHY PLAY IT.
Although this activity may not be quick, it will surely get your students thinking. It's suitable for both creative and less creative students.  They can come up with short or long explanations; they are also responsible for the content and the grammar, which means they will have to be attentive and spot their classmates' mistakes.
WARM-UP
I started by asking my students to place their mobiles on their desks and posing some questions like:
What do you mainly use it for?
Does it make your life easier or more stressful?
Is there anything you don't like about it?
When you need to get another phone, what type will you get?
Now, this question will automatically make students use a comparative structure:
"a better one", "a more expensive one", "a lighter one"…
Most of the times, they come up with basic adjectives, nothing to worry about at this stage.
I tell them I have a super expensive mobile phone I got as a Christmas present, adding that I'm in love with it because it's innovative, powerful, and stylish.
And this is the moment I show them my state-of-the-art mobile phone, which looks something like this: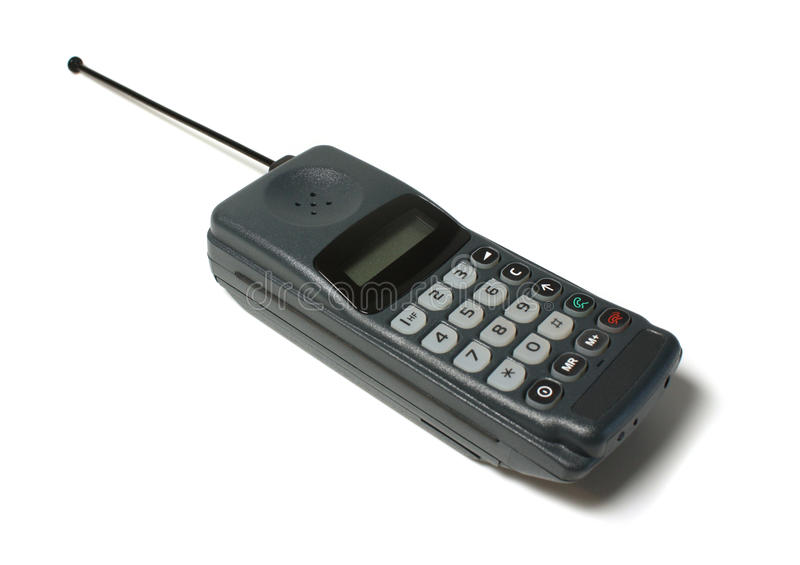 Hopefully, this will make them smile!
NEXT STEP

Involve your students by asking them questions. This will guide them into recognizing the pattern.
Do you think your phone is more powerful and efficient than mine?
Is it more stylish and better-looking? Does it have a better design?
Is it more comfortable to hold?
Does the battery last longer?
Inevitably, your students will end up comparing each other's phones, and this will trigger the use of more adjectives.
To guide the activity in the direction you want it to go, ask them to think of more adjectives, positive and negative, that can be used to describe mobile phones. Write them on the board as they say them, or show them a list on the screen –it will probably include most of the ones they came up with.
Here are some examples:
AFFORDABLE,   APPEALING,   BAD,    BASIC,   CHEAP,    CONVENTIONAL,   DURABLE,   EFFICIENT, EXPENSIVE,   FAST,   HEAVY,   GOOD,   INDISPENSABLE,    INNOVATIVE,   LARGE,    LIGHT,   MODERN
OBSOLETE,    OLD-FASHIONED,    OUTDATED,   POPULAR,    POWERFUL,   RELIABLE,    REVOLUTIONARY
SIMPLE,    SLOW,    SOPHISTICATED,    STYLISH,    SUITABLE,   TIME-CONSUMING,   TOUGH, UNRELIABLE
I usually try to arrange new vocab in alphabetical order. It's an organized and easy-to-follow format when learning new vocab. And when I forget to include a word when making a list, I can always add it later on.
LET'S GO TO THE FUN PART!
Decide on a category of objects with varied items. I chose technology because I wanted to kill two birds with one stone: students learn technology-related vocab or revise it if they have already dealt with it in class.
Create a set of noun cards with common objects on them. These can be simply a noun or an image to represent the noun.
Students sit in groups around a pile of cards placed face-down. The first student picks up the top card from the pile while the others wait and listen. The students should say why they need to change/buy the object on the card using a comparative structure.
EXAMPLE: I need a less basic, more efficient, and durable smartwatch. The one I'm using can't keep track of my sleep, and it isn't waterproof.
If the student does it in a convincing and grammatically correct way, they keep the card. But if they make a grammar mistake when using the adjective or give an unconvincing reason, the card goes back to the pile. The game finishes when all the cards have been used.
PDF here
Comparisons are Odious de cristina.cabal
GOING THE EXTRA MILE.
I noticed that when they made mistakes like saying "MORE FASTER", they were in fact trying to say" A LOT FASTER"
Go back to some of the examples they used. They probably came up with something like: "I need to get an iPhone because it's more efficient". Ask them if it's A LOT MORE or SLIGHTLY MORE efficient.
Show them a few examples of how to modify the sentence to say how different the object was.
To emphasize that a characteristic is either greater than the typical level, write these on the board:
MUCH MORE / ER THAN
FAR MORE / ER THAN
WAY MORE / ER THAN
A LOT MORE / ER THAN
To emphasize that a characteristic is either smaller than the typical level, write these on the board:
A BIT MORE / ER THAN
SLIGHTLY MORE / ER THAN
Before you carry on with this speaking part, ask them whether they think public transport is far more convenient than moving around by car. Hopefully, students will have different opinions as they have to take into account parking spaces, money spent on petrol, car maintenance…
Hand them out a sheet of paper with discussion prompts. These can be arranged as pair work/group work, so you can ask them to change pairs/groups when they finish and listen to more points of view.
This will help them gain confidence and their motivation increases since they correct their previous mistakes and learn new words.
To provide as much speaking as possible, ask them to produce at least 2 sentences using the ideas on the card + modifiers.
Here are some ideas:
Phone / Face-to-face communication.
Dancing / Doing yoga.
Changing the driving age to 21 or not.
Sharing a flat / Living with your parents
Click here to see more