Who needs a fabulous activity to add to their repertoire of activities to teach about the news and the media? Both hands raised? Awesome!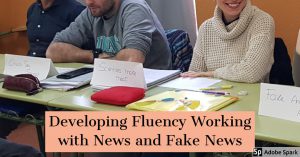 This activity has been inspired by a video I saw on Youtube where Louise Desmier, from British Council Spain, talks about CLIL and offers different activities that can be adapted to different subjects. Check it out 
The idea behind this activity is that by repeating the same information several times, students gain fluency, start making fewer mistakes and gain confidence. 
Topic: Newspapers and the media
Aim: to develop students' fluency and incorporate new language by retelling a piece of news several times.
Level: Upper Intermediate and above
Time:  20 minutes
Materials: Short stories (level 2) from News in Levels.
Before the class
Before the class, choose a number of stories from News in Levels that look intriguing or you think might generate interest. Write the headlines of the stories on a folded piece of paper, big enough to see from a distance (see picture). If you have 12 students in class, there should be at least 6  different pieces of news.
Copy/paste each piece of news and print them on different pages. Each headline should be accompanied by their matching piece of news.
Note: You should also include one piece of fake news which, at the end of the exercise, students will need to guess.
Some of my headlines were:
Scientist make meat
Church sex scandals
Procedure
Bear with me. It takes longer to explain than to actually do the exercise
Divide the class into newsreaders and viewers. Ask the newsreaders to sit together in a different area of the classroom.
Ask the newsreaders to place their headlines on the desk visible to the rest of the class (viewers)
Give the newsreaders the news accompanying the headline and allow them some time to read it. Tell them they will need to retell the story behind the headline.
While the newsreaders are reading their piece of news, you can ask the rest of the class to do a small exercise from their textbooks. You don't want them to be staring at you or wasting their time.
Once the five minutes are over, ask the viewers to stand up and choose the headline that intrigues them the most. They should sit facing the newsreader.
The newsreader needs to retell the news using his own words but, at the same time, trying to incorporate as much vocabulary from the story as possible.
Allow 2 or 3 minutes for this part.
Repeat the exercise asking viewers to choose a different intriguing headline.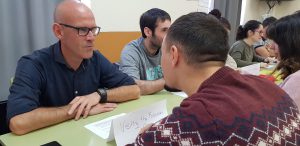 Change roles. Ask students to change roles and repeat procedure. As, ideally, there will be more than 4 pieces of news they can always choose a different headline.
Once the exercise is finished, ask students in pairs to discuss and decide which news was fake news. Answer: the one about the spiders
Find some more fake news here
Hope you have enjoyed the activity! 🙂