If you have been following me for a while, you must know that I am deeply into technology. I don't know how it happened. I am not a digital native. Far from it. I don't know. I think it was love at first sight. We have been together for almost 14 years and I don't think we are going to split up anytime soon.
Technology is so integrated into my lessons that I no longer realize how often or how many different activities I have created with a certain tool. Technology is just part of the lesson and using it feels like having a break. Like  having a shower after a long day. Students are beginning to tune out? Time to introduce an activity created with a digital tool. Carefully planned, of course. With methodology, of course.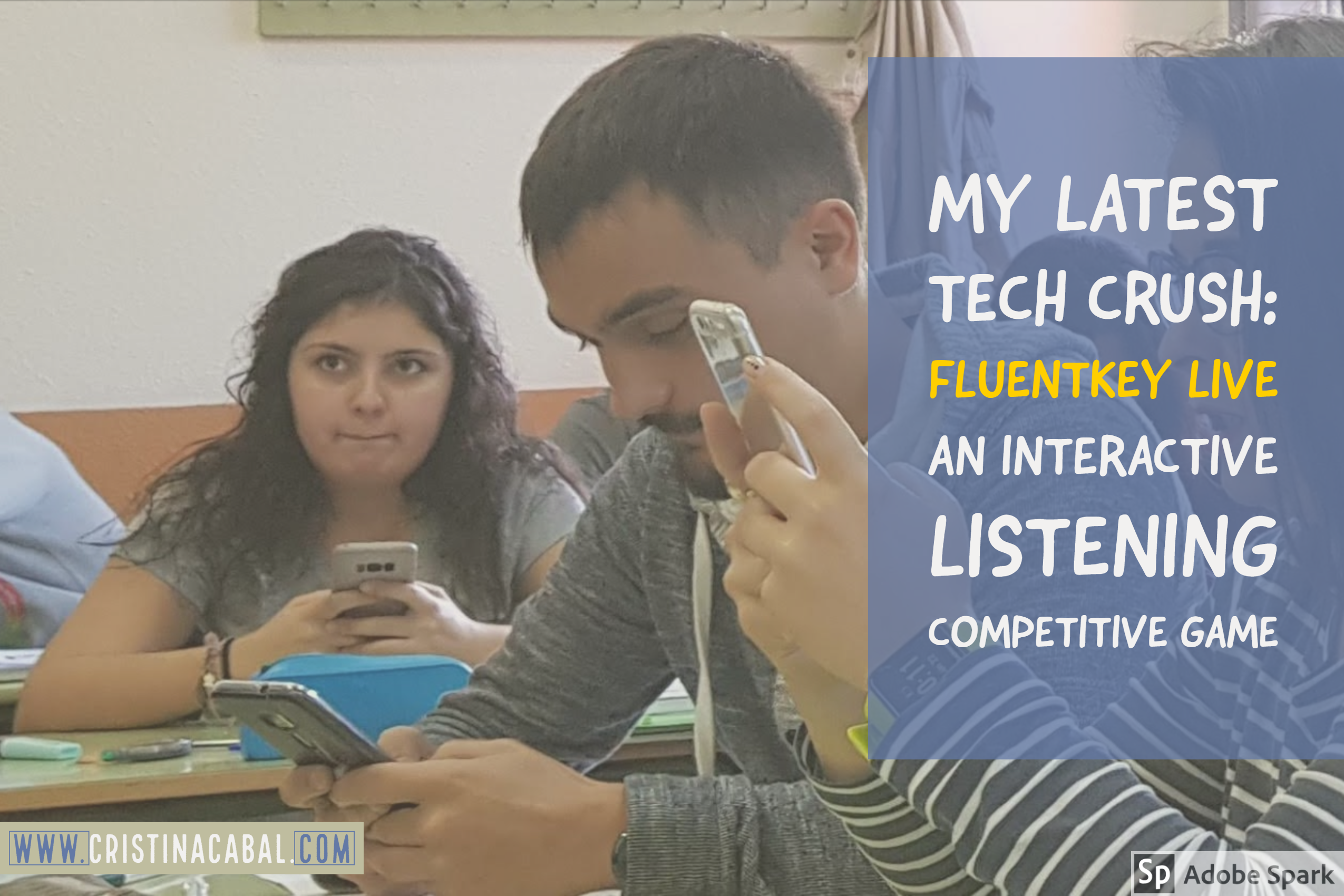 Anyway, the hardest question I've been asked lately has been, "What's your favourite digital tool to use in class?" Well, this is hard for me to answer. I have so many. The question I  automatically asked was: What for? There are some tools that are more versatile than others but if I had to answer, I'd wince( I love so many) and say the ones where students can take an active role and that add an element of healthy competition. And the tool I am going to share with you today offers that.
Can you imagine a tool, just like Kahoot, but for Listening Comprehension activities? That's what FluentKey.com/live is.

There are lots of different ways we can exploit video or audio in class. Some more engaging than others. Well, let me tell you that Fluent key is totally engaging. It is just the tool I was waiting for. It makes listening fun by turning real-life videos into an interactive game student can play using their mobiles.
Created by two language teachers, Hollin Wakefiled and Hugo Xiong and a software engineer Tajddin Maghni, it is bound to revolutionize the way we do listenings.
What is Fluentkey?
FluentKey Live is an interactive classroom listening game. The teacher displays a video on a projector while students race to answer comprehension questions on their own devices and compete for the highest score.
How does it work?
o Register for free
o Find the right video
o Choose Play Fluentkey/live
o Share the code with your students and ready to go!
Why do I like it?
The teachers:
o Are you up to your eyes and don't have the time to look for a video and create the comprehension questions? No problem. Fluentkey has a library of ready-made videos with quizzes. You can find the right video for your class by using the different filters (level, category, theme). Choose the video, have a look at the questions in the quiz and if you like them, just share the code with your students and get ready to play.
o Do you like the video but need to modify some questions or/and add new ones?? No problem! Duplicate the video and edit it.
o Can't you find the right video for you? No problem! 😆 Upload a video from YouTube or Facebook (Yes!!. Facebook.) or copy/paste the link,  click on Create a quiz and add your own questions. You can add multiple choice questions, fill in the blanks, matching… among others.
o Playing Fluentkey/live is completely free.
o You can adjust the speed of the audio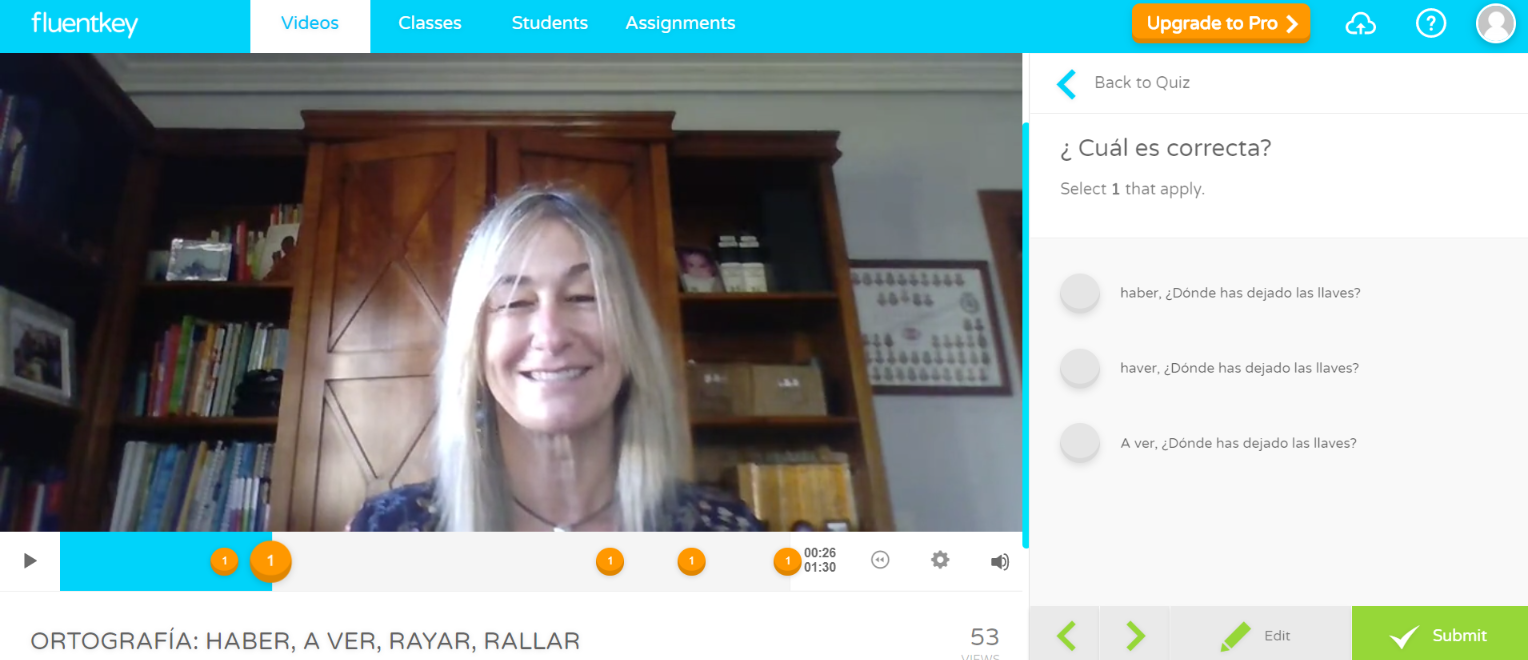 The students
o The students do not need to download any app. You just instruct them to go to fluentkey.com/live , type the code you give them and play.
o Students can use their computers, tablets or mobile phones.
o They can play individually or in groups
o The faster they answer, the more points they get
The game:
Once you press Play, the video will automatically play until it reaches a question. Students on their devices can preview the question and the kind of question (multiple choice, matching…) but the answers are not yet visible. At this point, the teacher can choose Watch again or Ready to answer. If you press Ready to answer, the answers show up on the students' devices and a 30-second countdown begins. The faster they answer, the more points they get. Press Next to show the score and then again Next to keep playing the video
What I don't like
o You cannot change the time students are given to answer a question. It's always 30 seconds.
TIP: FluentKey was released only this year and they are still growing so not everything is perfect right now. I strongly recommend turning off the subtitles on YouTube before pasting the link on Fluentkey.
I'll be presenting this tool for the first time in Menorca this weekend. Can't wait to hear what teachers think about it!

Have a look at my face-to-face workshops: here and here.: the perfect combination of the latest technology and traditional teaching.