Today I want to show you a tool which has a lot of potential in the classroom. It's called Mybrainshark and it offer lots of possibilities .
Mybrainshark allows you to:
♥Add voice to a PowerPoint. Upload your Power point presentation and add audio to every slide by using a microphone. You can also add background music.
♥Upload a document and add audio. It might be very useful when you want to explain a grammar point or when you want your students to improve pronunciation.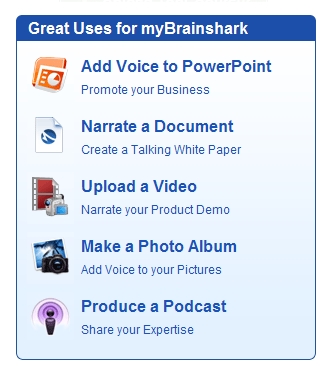 ♥Upload a video and add your voice to it or/and add background music.
♥Make your own photo album and comment on it or add music.
♥Make your own podcast.
Besides, it's free -you only need to register – and it's easily shared or embedded in a website or blog.
I'm planning to immediately use it with two levels.
♥Elementary levels. Record students while doing a role-play. I'm going to use the Photo album option and take pictures of them.
♥Intermediate levels. Students narrate their own speeches illustrating them with photos. They can either use the Power Point option or the Photo album option.
Give it a go and if you have any ideas about how to use it the classroom, don't hesitate to leave a comment.