Word Hippo is a very useful online dictionary for students and for teachers. I absolutely adore the pink hippo but this is just something to add up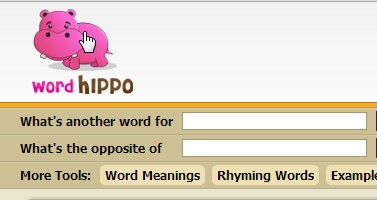 to the list of reasons why I like this site. Word Hippo is very simple to use and everything is on the same site.
Do you need to find a synonym to avoid repeating one word (for example, I'm really tired of my students saying and writing  I think that all the time), here you'll find not only synonyms of the word you are looking up ,but also its antonyms. You will also find the meaning of the word and its translation, words that rhyme with it and you can even get its plural/singular, if it is a noun, or its past/present if it is a verb. Amazing , isn't it? But more is coming…. You can have your word pronounced and if you type a name , say Christina for example, it gives you its meaning (follower of Christ) and its origin, among other things. But what I like best about this dictionary  is that you can get Example Sentences where your word will be used in context, and this is something I really appreciate as I'm not a morning person and sometimes when I need to prepare a lesson in the morning I spend an awful lot of time, time I don't have , looking for the right sentence to exemplify meaning.
So, definitely, WordHippo will be among my favourite dictionaries this year.