That's the name of this superb website for pre-intermediate students to practise listening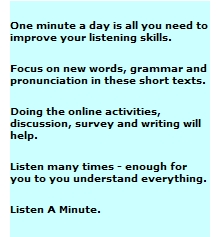 and this is what they promise. This site is still growing  and at the moment of publishing this post you could only  find alphabetically-listed topic- based activities going  from A to H. That's it, you can find listenings about Airports and Harry Potter  but don't try Vegetarians yet.
You can do the quizzes about the listening on line and it also gives you some writing ideas. What's more,  you don't even need to register. It's completely free!!
One  minute a day… that's all they are asking and in return… you'll be passing your listening tests with flying colours.
Related posts:
Practise reading and listening