I never say "no" when one of my friends phones me to suggest going shopping. I love it!!!
Although I like going shopping a lot I don't see myself as a shopaholic: I am definitely not a compulsive shopper although I am one of those who sort of view going shopping as a hobby. It helps me relax but I certainly do not spend money I do not have and I am not drowning in debt because of my purchases. Well, this is what I tell my mother every single time she tells me off for wearing new clothes.
Anyway, this is a video from the film Pretty Woman, which I'm sure all of you have seen.
You can do three things:
♦ Just watch and enjoy it
For students in the elementary level
♦ Watch the video and do some exercises 
♦ Do a whole lesson plan on going shopping  Here
And now that we are on the subject what about learning some expressions containing the word shop?
→ talk shop
if people who work together talk shop, they talk about their work when they are not at work
Even when they go out in the evening, they just talk shop all the time.
→go window-shopping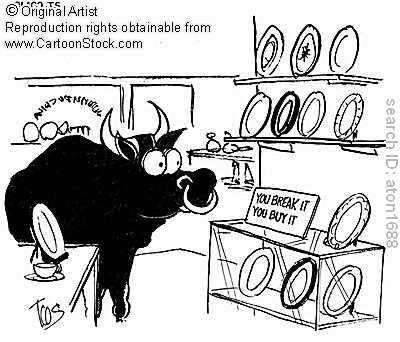 to go about looking at goods in store windows without actually buying anything.
Joan said she was just going window-shopping, but she bought a new coat.

→shop around (for something)
to shop at different stores to find what you want at the best price.
You can find a bargain, but you'll have to shop around.
→be like a bull in a china shop
to often drop or break things because you move awkwardly or roughly.
Rob's like a bull in a china shop – don't let him near those plants.