So, who doesn't like shopping???
I know, I know, I can see some of you raising an eyebrow and thinking… "well, I must be weird then, if I don't like shopping". Of course, you are not, it's just that I love it so much that now that I don't have as much spare time as I used to have, I miss it like crazy.
But I know, not everyone is a shopper, not everyone is a consumer. However, we all need to buy, whether it's clothes, food or any other stuff. So, this lesson might come in handy whenever you decide to set your foot in a shop.
Hold on! Shop? Did I just say, "set your foot in a shop"? Like in a physical shop? It seems to me that right now, the online shopping experience has become so incredibly diverse and sophisticated that no matter what you need, it is simply a click away from you. You don't even need to physically go to a shop. You can get yourself the latest craze from anywhere in the world without actually moving from your sofa. Kind of awesome!  Yeahhh, awesome but boring!!!
Anyway, in this lesson aimed at B2 students, we will be focusing on the topic of shopping and we 'll be comparing online shopping to traditional shopping.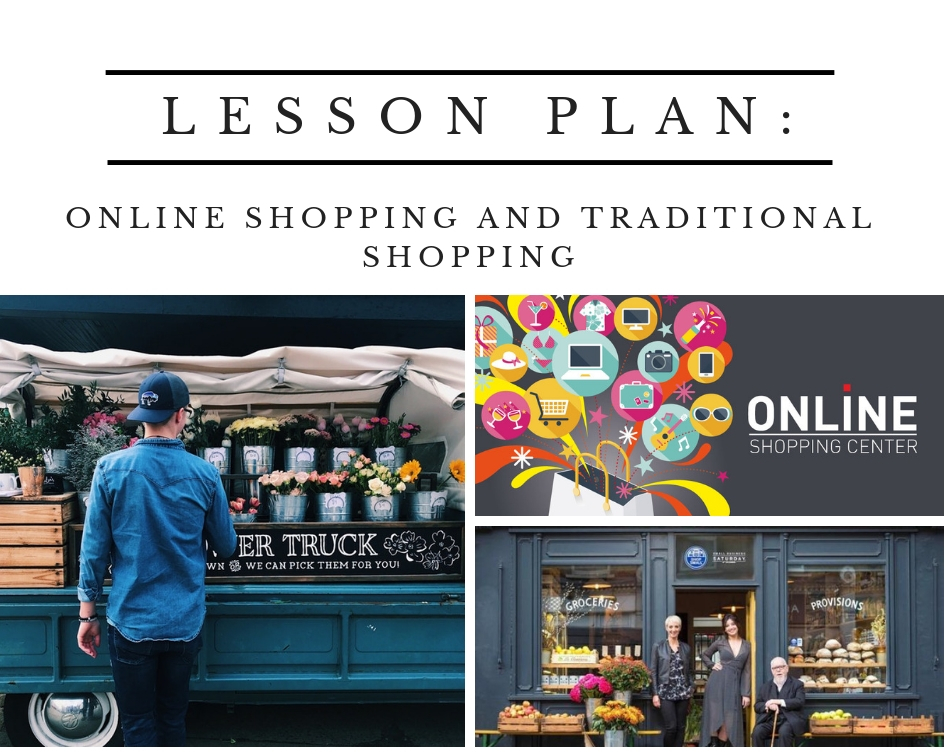 ONE: Lead-in Activity
Types of shops
Although students have a B2 level, I find they always welcome an opportunity to review vocabulary and maybe learn the names of some less common shops.
Play the video once without stopping and at the end of it, ask students in pairs to write down as many different kinds of shops as they can remember from the video. Write the words on the board for correct spelling and drill pronunciation.
 Divide the class into As and Bs. Ask As to face the board and Bs to face away from it.   Play the video, display the first picture and ask As to quickly describe the kind of shop they see on the board. As describes half the pictures and then they change roles with Bs doing the description and As guessing the shop.
Note: The slides contain music. Turn down the volume if you do not want it.
You'll find the list of all the shops featured in this video at the end of the post.
TWO. Brainstorm and introduce new vocabulary
Give students two minutes to write down as many words as they know related to shopping. When the two minutes are over, ask them to stop.  After a quick round to see who has written the highest number of words ask students to tell you their words, writing on the board only the ones that are a bit more challenging.
For example, words such as "deal" or "goods" will be written on the board while "shop" or "money" will not.
More useful vocabulary:
A good deal: if something is a good deal, you pay a low price. You can say that a store has some great deals, for example
A bargain: the same as above
20% off the price is now 20% less than the original price
Overpriced: if sth is overpriced, it costs much more than you think it should
To order: when you order something that you are going to pay for, you ask for it to be brought to you, sent to you, or obtained for you. "to order things online"
Order number
To place an order
If you have a discount on the retail price, you pay less price than the price normally charged
Goods: things made to be sold
To be scheduled for delivery (tomorrow)
Online form
A secure payment page
To enter your card details
Get a refund
You can pay "Cash on Delivery"
To exchange a product
To track your package
Shipping rates
Ready to test your knowledge?  Fill in the blanks with some of the words above.
THREE. Listening. Video Activity: Singles' Day
Lead-in: Ask students if they know anything about Singles' Day. Info, here
Play the video once without giving students any tasks.
Give students the gapped text and ask them to complete it with the words they hear. Play the video.
Play it again, if necessary
See the activity here. You can check the answers by activating the subtitles in the video.
FOUR. Speaking: Online Shopping versus Traditional Shopping
Divide the class into two groups: those preferring online shopping and those preferring traditional shopping. Ideally, you would pair up students in this way, but more often than not, you'll have to persuade some students to take a different view for the sake of the exercise.
Give each student their corresponding handout and ask them to read the information on it. Their aim, when pairing up with a student holding an opposing view, will be to try to convince their partner to change their mind.
FIVE: Oral mediation
NOTE: These activities will be in Spanish. Students will need to act as mediators in an oral interlinguistic mediation activity.
This is the first time I am going to do an interlinguistic oral mediation activity with my students. My students are going to take the role of mediators and use a source text in Spanish and relay the selected information to an English speaker, who does not understand Spanish.
What is a mediator and what does he do?
The mediator acts as a facilitator in a social event during which two or more parties interacting are experiencing a communication breakdown or when there is a communication gap between them.
Watch the video and find out a bit more about mediation.
These are the first two tasks I have prepared for my students. More would be coming!
SIX. Discursive writing. A pros and cons essay.
Write an essay of about 200 words on the advantages and disadvantages of buying in local shops.
Tips and example here

Shops featured in the video:
clothes shop, chemist's, fishmonger's greengrocer's, baker's, bookshop, shoe shop, butcher's, record shop, haberdashery, florist's, barber, optician's, newsagent's, petrol station, pet shop, toy shop, stationer's, chain store, charity shop, corner shop, tobacconist's, sports shop, travel agent's,  jeweller's,