I'm really happy to welcome  again Angeles Jimenez as guest writer on the blog. Ángeles is a friend and fellow teacher from EOI Oviedo with over 25 years' experience teaching adults and, in this blog post, she will be sharing with us a fun engaging game to revise vocabulary.
The Sentence Betting  game is a vocabulary revision game which requires students to recognize, correct and explain vocabulary related to the topic of work. It's highly adaptable to any semantic field and it's a great game to review vocabulary as end-of-unit activity and usually a lot more fun than the typical course book review.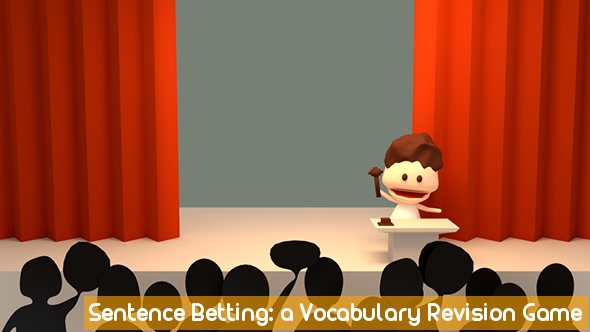 Level: This game in particular works best with C1 students since there are difficult expressions B2 students haven't studied yet.
Preparation: Prepare a worksheet for students to check for word-usage mistakes related to the topic of work. Include correct sentences in a random order.
Time: about 45 minutes
Materials:
A sentence betting worksheet (see handout).
Fake money or poker chips (optional). You can download play money here
How to play:
1. Divide the class in teams of 4 students. If you want to play with bigger groups, split each group into two teams.
2. Give each team a handout of the betting sheet. Allow them 10 minutes to go down the list of sentences to decide and mark which one is either correct or incorrect.
They need to put a tick or a cross and bet a sum of money between 1$ and 5$ depending on how confident they feel about their answer.
3. The auction. Call sentences aloud one by one and ask each team to bet a sum of money stating whether they think is correct or incorrect. Display the answer on the screen. Ask students to fill in the 3rd column with the amount won or lost.
For example, if a pair of students bet 5$ on a sentence because they believe it's true and they're correct, then they win 5$. But if they get it wrong, then they lose that sum.
Students add up the figures both plus and minus. The winner is the team with the most money at the end.
Once a team has won the bet by correctly saying that a sentence is wrong, they have the chance to double their money again by correcting it.
Remind students that once the game starts you will limit the amount of time they have to decide if the sentences are right or wrong.
Variation: If you want to build up excitement, divide each group into two teams appointing a spokesperson, who will be in charge of reading each sentence aloud and giving the correct answer after each bet.
Tip: if you want to keep the activity fast-paced, it may be better to play in teams as poor pronunciation will slow down the game.