Every child is an artist, the problem is staying an artist when you grow up." – Pablo Picasso
I had a full-blown, real, very much needed holiday. The last two months had been unbelievably hectic: end-of-term exams, working full-time during the week and some teacher training weekends and, to top it all, I was also writing a project to apply for a European grant, which unfortunately I won't get.
So, there I was, fully enjoying my break , when I stumbled upon an article in El Pais about a short animated short film "Alike", which had won a Goya award in 2016, and I was struck with how beautiful, touching and thought-provoking the video was. And I just knew I had to show it to my students, do something with it and well, here it is. I hope you enjoy it as much as I did.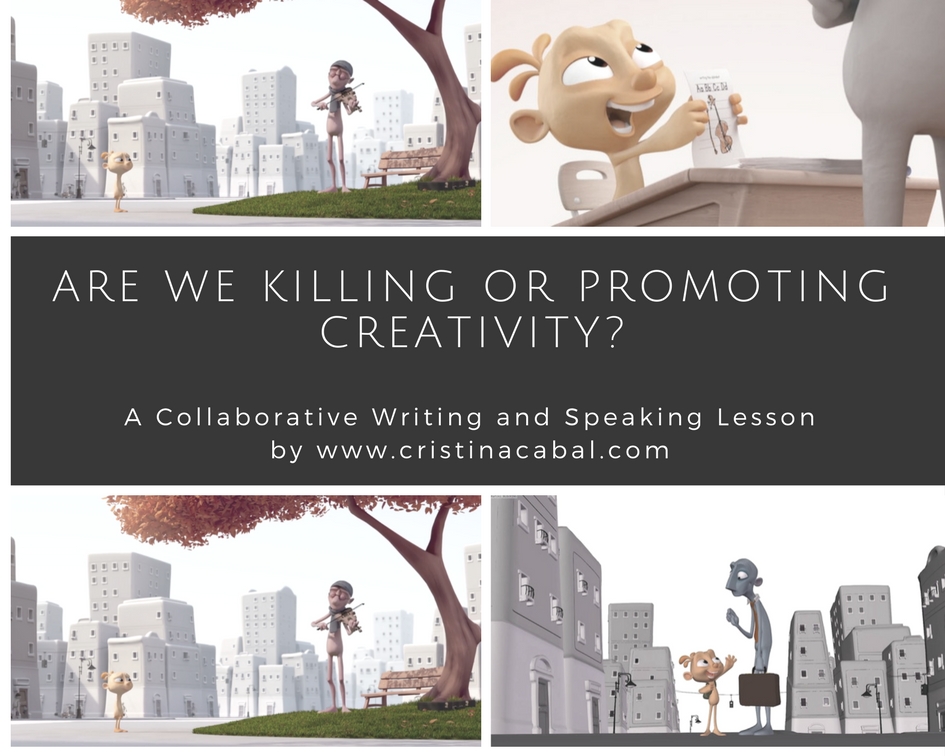 About the lesson: In this lesson, aimed at B2 students and above, students watch a short silent film called Alike (7 minutes) with two main aims:
To give voice to the story and for this:
they will have to collaboratively write the story
they will have to collaboratively retell the story
2. To discuss some questions related to education, the promotion of creativity and         daring to be different.
---
Step 1. Warm-up: Copi and Paste
---
Tell students they are going to watch a short  video called Alike, where the main two characters are a father and a son whose names are Copi and Paste. Focus on the names, write them on the board and ask students to predict what the story could be about. Hopefully, students will come up with some of these ideas
(Lack of)Creativity
Imagination
Routine
Lack of ideas
Plagiarism
Inspiration
Deception
---
Step 2. Introducing the video and the task
---
Explain that the video they are about to see is an animated short film (7 minutes) called "Alike" where there is no dialogue. However, the video is so touching and thought-provoking that words are not necessary; images and especially colours play an essential role and are enough to tell this beautiful story and to give us something to think about.
Play the video once asking students to focus on how the colours (or lack of colour) help tell the story. You can also tell them that, later in the lesson, they will need to narrate the story so they need to concentrate on everything that happens.
---
Step 3.Working on vocabulary.
---
The next step will focus on teaching/revising the vocabulary they will need to know to write the story.  Below, some flipcards I have used with my students.
Flash Card Deck created by Cristina Cabal with GoConqr
---
Step 4. Collaborative Writing and Retelling
1. Form groups and assign each group a part of the story. The aim is first to write and then to tell their part of the story as it happens, but also to analyse the hidden meaning and the values it tries to highlight.
The day begins (0:06- 1:32)
At school/ at work ( 1:33-2:38)
Leaving the office/school (2:39-3:07)
The next days (3:08-3:52)
Copi's surrender (3:53-5:00)
But one day (5:01-6:50)
Depending on the number of students, you can ask them to work in pairs or assign each group two parts.
2. Play the story once again for the students to take down notes and get stsrted with the writing task. Walk around offering help and guidance.
3.  Play the story again to help students polish their part.
4. Ask each group to name a spokesperson and ask these students to come to the front of the class and give voice to the story as you play it once again.  Be ready to pause the video as required.
(below my students performing)

---
Step 4. Speaking
---
For this activity there should be a supportive atmosphere within the class.
Form groups to discuss the following questions. When all the questions have been discussed, the groups should report back to the whole class.
Have you ever done something different or behaved differently from your peers?
Do you remember a time when, for some reason, you stood out as different?
Do you remember a time when you went against the established rules?
What's something you know you do differently than most people?
Do you think the way education is organized destroys children's creativity?
Do you think education for children under seven is excessively focused on the curriculum?
Do you think that be learning to be creative is more important than knowing how to spell correctly?