In the intermediate and more advanced exam you will be presented with one, two or more pictures about the same topic but in clear contrast. It's important to remember that you are not supposed to give a detailed description of everything that is happening in the picture(s). On the contrary, what is important is that you talk about the topic or idea suggested in the picture(s). If you are given  for example 3 minutes to talk, use just one minute of this time to describe in general, using appropriate language and structures; the rest of the time should be dedicated to talking about the topic and giving your opinion.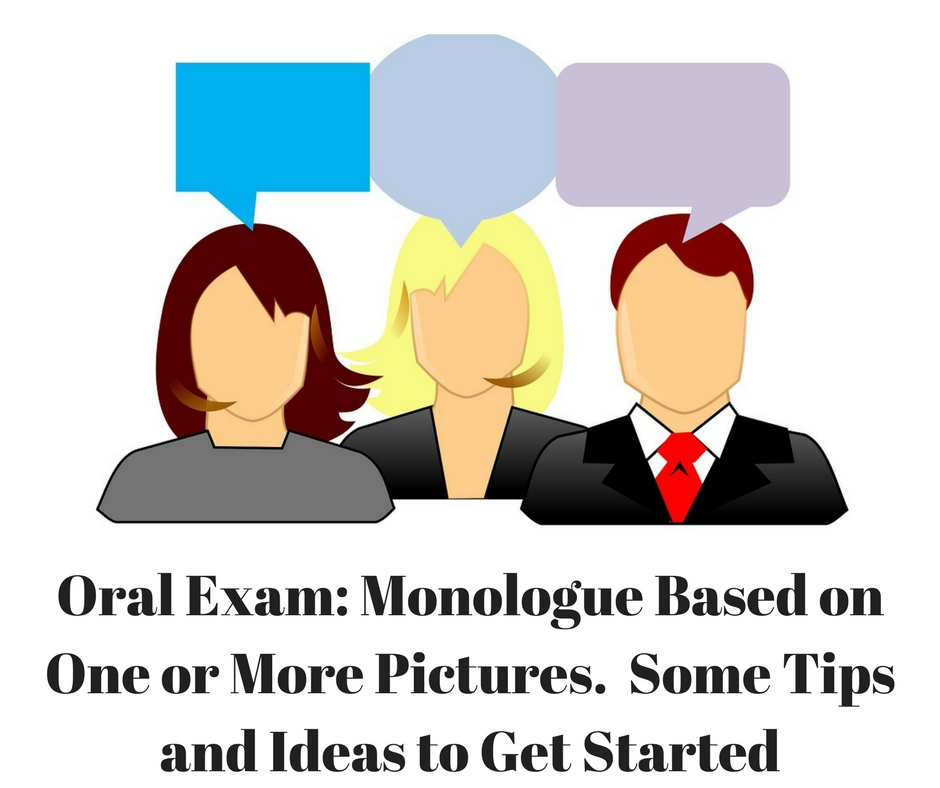 BEFORE THE EXAM
Make a list of the most common topics asked in the exam.
Brainstorm vocabulary you can use related to this topic. Mind mapping works perfect here. I use the free site Goconqr.
Mapa Mental creado con GoConqr por Cristina Cabal
Practise using sets of pictures in contrast. You can use my own selection here. (Scroll down)
If your problem is that you never know what to say, I suggest you have a look at some conversation questions you might be asked about the given topic. It will probably help you get started. Have a look at some common topics with questions here.
Listen to other students taking the exam (for example here) or read some examples here (fashion, global warming, jobs, new technologies and food)
Time yourself to control the time it takes you to develop your ideas.
Record yourself and then listen to the recording and see how you can improve it. You can use the app Soundcloud, which allows you to stop the recording and write comments.
(You can write a comment on a track through the text box below the waveform that says 'Write a comment…' and press your return or enter key to send. The comment will appear at the point on the waveform where you first started typing. Alternatively, you can click any free space in the comment section to leave a comment at that specific point)
The day before the exam, revise all the topics and the vocabulary you can use.
Half an hour before the exam, don't speak your mother tongue. Spend the time listening, doing some silent reading or pronunciation exercises in English.
DURING THE EXAM
Before you start speaking:
If you are allowed 1 minute to organise your ideas, use that minute. I have often seen candidates not taking this minute and making a mess of the exam just because they didn't take the time to organise their ideas.
Scan the pictures and identify the topic. Sometimes there is a title or a heading that helps you.
Try to come up with three ideas about the topic suggested by the pictures. Expand on these ideas.
Taking the exam:
Begin by giving an overall idea of what the pictures are about, using a variety of structures, modals to indicate possibility and the useful "look" or "seem".
Talk about the topic. It's easier if you relate it to yourself, but if you don't have this experience, talk about a friend's or just lie. This is an English exam, not a lie detector.
Develop your ideas. Try to use linkers to connect your ideas.
Don't give too complicated explanations. I'm sorry to say, you'll probably make mistakes.
Give your opinion. Say which one you prefer and why.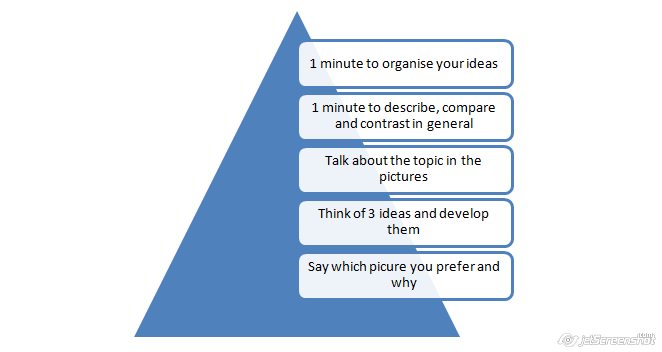 Some expressions you can use:
Remember it's better if you start by giving a general idea of what the pictures are about.  Don't start like this:
In the first picture I can see
Start like this:
In this worksheet there are two photos. They both show different ways of (shopping).
These photos are clearly both connected to the topic of (science)… but in two quite different contexts. In the first one… In contrast, the second picture shows…
The photo/picture shows …
The first thing that strikes me about this picture is…
Remember that you are describing a picture, so you cannot be 100% sure of what is happening. Use language that suggests this:
 I think…
Maybe / Perhaps…
I guess they are…
 Modal verbs of deduction: she must / can't /
Modal verbs of possibility: could, may, might
 She looks/seems… (tired)/ She looks like … (a teacher). It looks/seems as if (it's raining)
PRACTICE.
Go to https://www.cristinacabal.com/?page_id=4906  and scroll down to the section SET OF PICTURES FOR PRACTICE and just "practise". "A  lot!" 🙂