Lesson on Food and Eating at Intermediate Level.
Vocabulary
Listening Comprehension
Picture description
Questions for discussion
Writing
STEP 1. VOCABULARY. You can download the pdf here.
To talk, you need words. These are  the words I think my intermediate students will probably need.
Adjectives
fresh fish
frozen lasagne
low-fat /high fat cheese
raw fish
spicy chicken
takeaway pizza
tinned meatballs
ready-made dish
delicious /nice taste
it's nice/ it's disgusting
fizzy drinks
healthy/unhealthy food
fatty food
Verbs
to eat out
to eat sensibly
to cut down on sugar
to cut out sugar
to be on a diet
to lose weight
to put on weight
to order food
to take vitamins
to take food supplements
to try new food
to contain vitamins and minerals
to have a balanced diet
Nouns
(food that is high/low in) carbohydrates "carbs"
(rich/high – low/poor in) proteins
(high in ) sugar
eating habits
a nutritionist
fats
STEP 2. LISTENING COMPREHENSION 
At this level, students know what a "vegetarian" is. So write the word VEGETARIAN on the whiteboard and ask students if they know any vegetarians and if they do,   what it is like for them when they eat out. Write the word "veggie" and explain that it is another term for vegetarian.  Play the listening below, just for fun! It only lasts 36 seconds and it is worth every second of it!
The word "vegetarian" is a blanket term used to describe somebody who does not eat meat, poultry, fish or seafood. But then, within this term there exist different sub-groups. Ask students if they know any of these sub-groups and if they think a diet without meat is better than a diet with it.
Tell students they are going to do a listening comprehension about the different types of vegetarians.
STEP 3. SPEAKING. You can download the pdf here
Picture description:

Students describe the pictures talking about the topic  suggested .
EATING OUT IS NEVER A HEALTHY OPTION. Do you agree?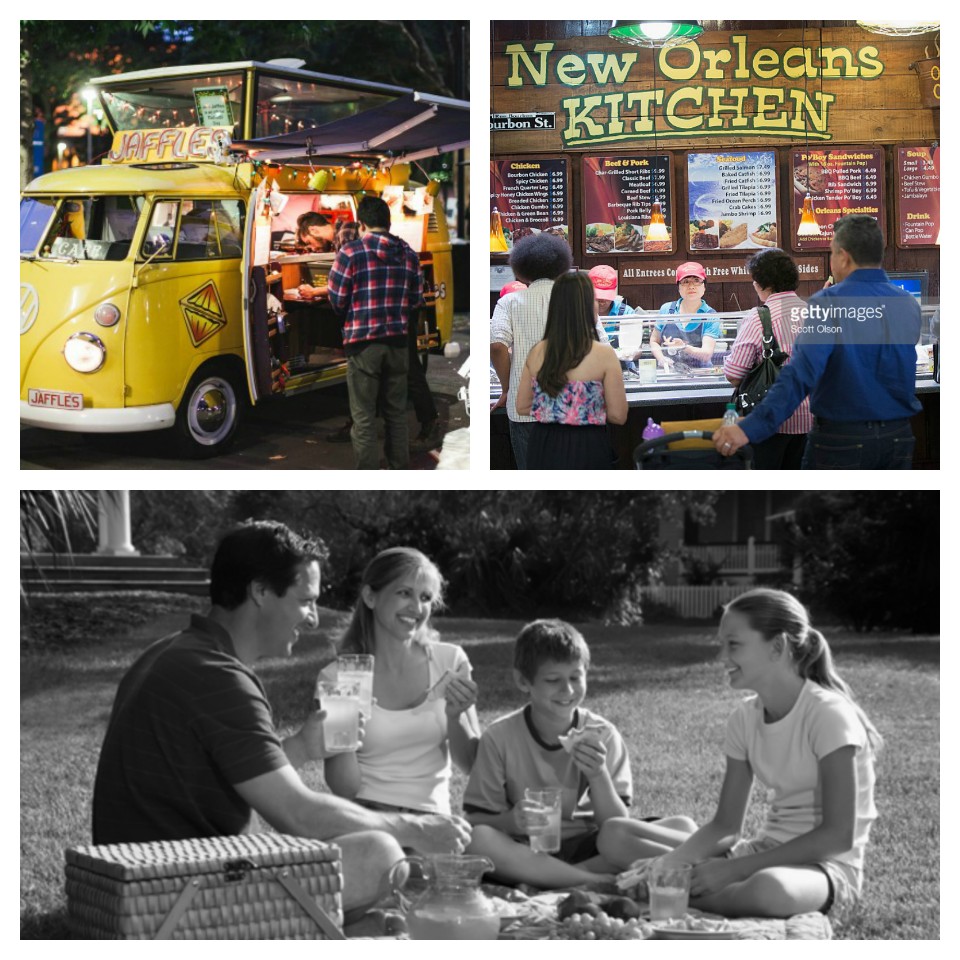 Interaction.

Students in pairs or in threes talk about the questions elaborating on the answers.
Is there any food or drink that you couldn't live without? How often do you drink/eat it?
Is there any food that you dislike? Which is it?
What was your favourite food when you were a child?
Do you eat healthily? Explain
Do you ever have…
 ready-made food?
  takeaway food?
Do you prefer to eat at restaurants or at home?
What's the best restaurant you have been to?
Is a vegetarian diet better than a diet that includes meat? Why?
What kind of diet would you recommend to a friend?
Eating habits have changed a lot in Spain . Do you agree?
"An apple a day keeps the doctor away" Do you agree with this proverb?
STEP 4. WRITING
Write an opinion essay on  :
Eating meat can cause serious health problems so the best option is to become a vegetarian. To what extent do you agree or disagree?
Check out how to write a for and against essay in my Writing Section  here.