Wouldn't you like to be the cool teacher using your mobile as a remote to present your own slides? This is soooo easy that I don't know why I haven't tried it before.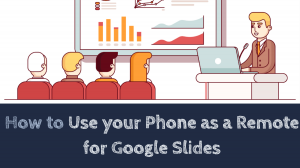 Before acting cool, you will need to download two things. Don't worry. They are free. I am the free app teacher, remember? Oh and… please bear in mind it's only useful if you use Google Slides. I do. All the time.
In your laptop: Download the Chrome Extension "Remote for Slides" here. Make sure you click Add to Chrome.
In your mobile, download the free app Remote for slides.
Done? Now
Open your presentation on Google Slides
Click on the Present w/Remote

3. At the bottom, you will see Start Remote

. Click and your Slide ID will be displayed. It will be on display for only 2 seconds. If you want to see it again, you will have to click the Show It icon next to it.
Open the first slide on Presentation mode
Done? Open the app on your mobile, enter the code and click on Connect
That's it"! You will see two buttons. Next Slide and Previous Slide
See? Easy peasy! I told you so!