Looking for a time-saver? Here's one! Free, online and you don't even have to register. It simplifies a difficult text but can also work with the original text; it has a clickable built-in dictionary, the possibility of listening to the pronunciation of highlighted words and automatically provides a variety of printable activities based on the vocabulary of the text.
Rewordify, what else?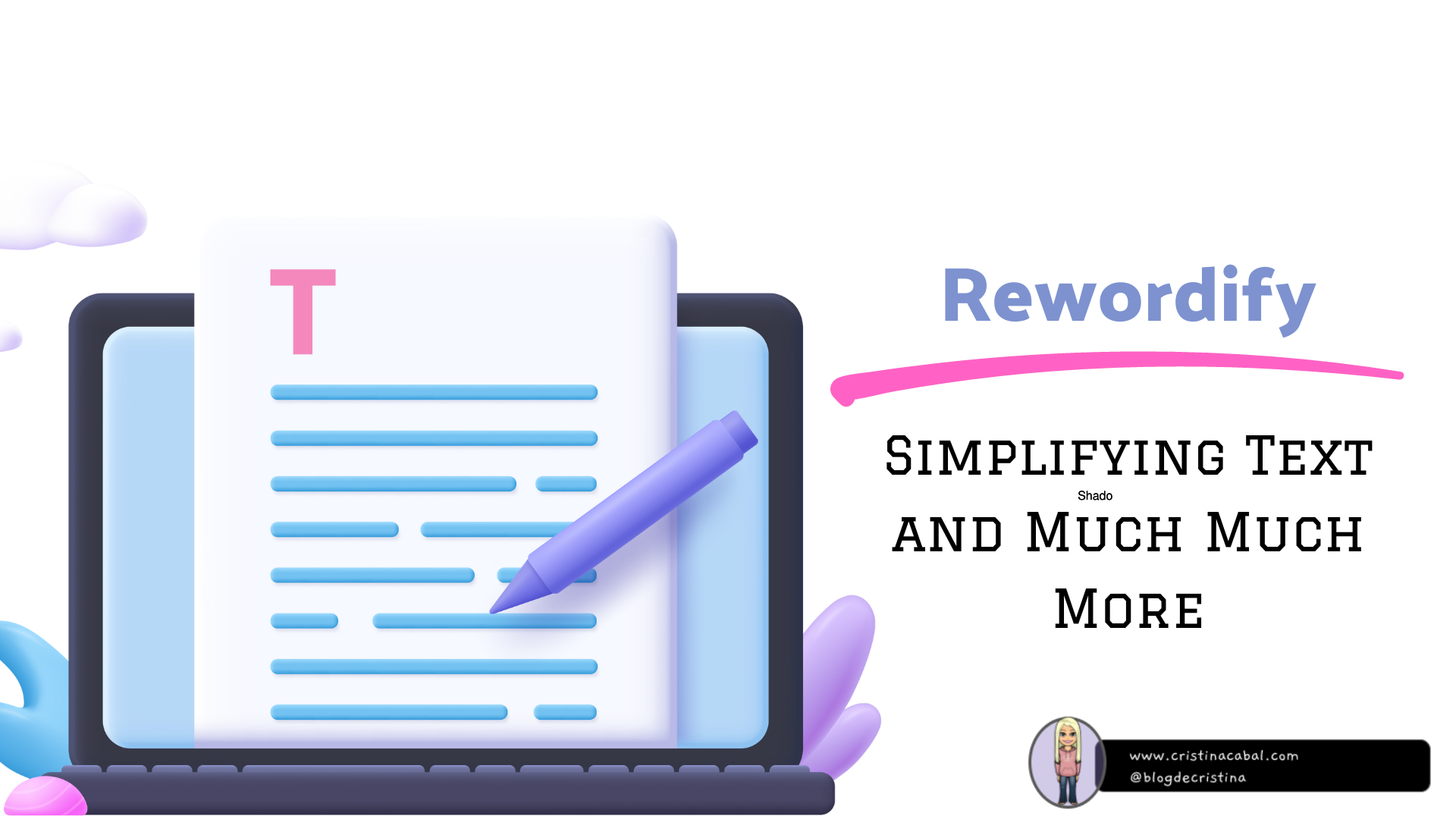 Imagine the following scenario:
The problem:

You come across an interesting article about Queen Elizabeth II, such as

this one from the BBC, but… it's too challenging to give your students.

The solution:

Go to Rewordify and paste your text  into the yellow box. Click Rewordify text.  Done!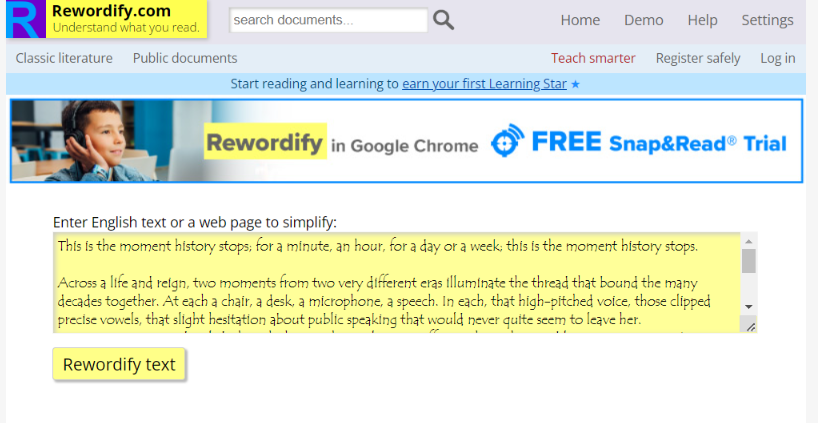 Is it too simple? Do you need a more difficult version of the text? Would you prefer to see the highlighted words in a different colour? Would you rather see the original text and the revised text in two separate columns? No problem! Just choose your preference by going to Settings in the upper right corner.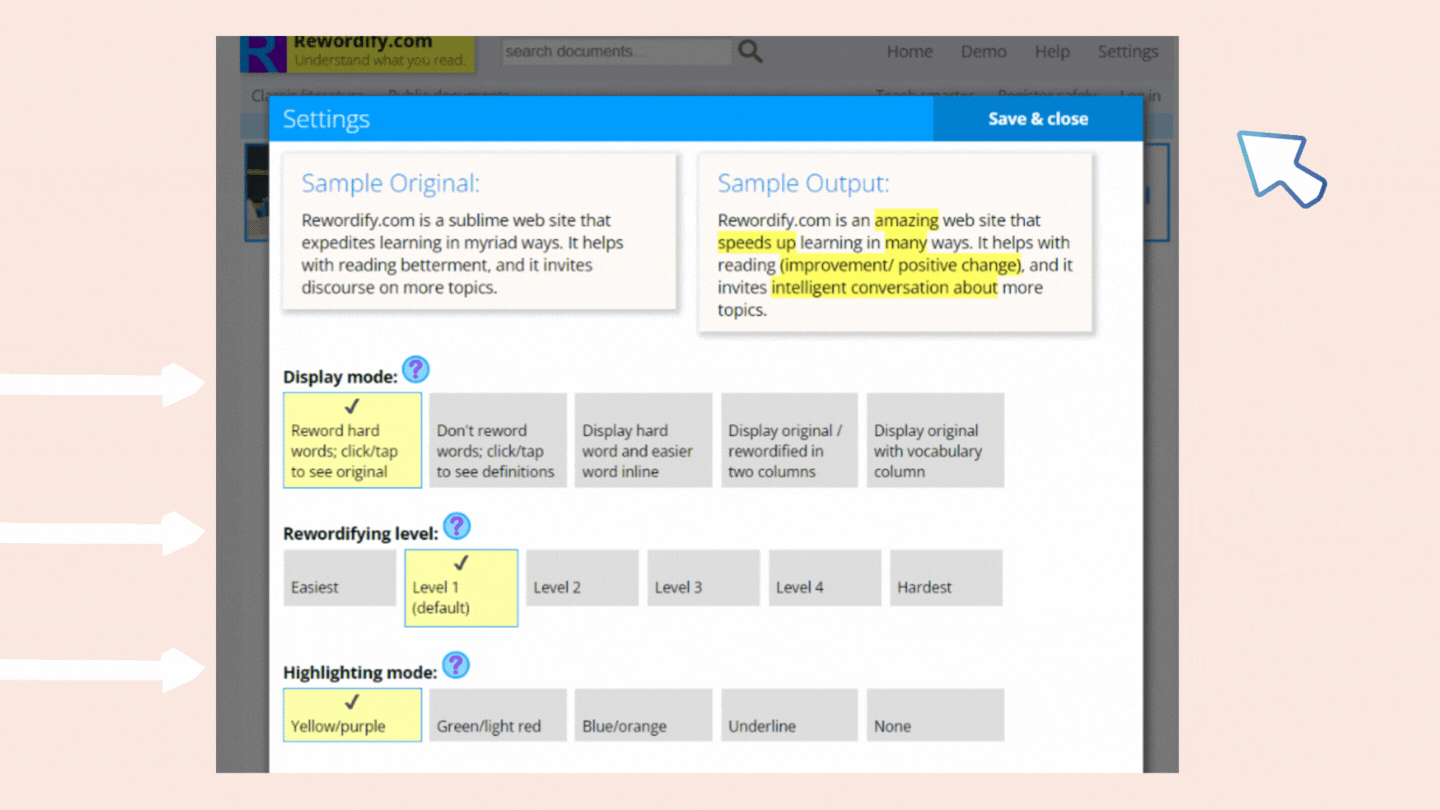 The problem: you have a text that needs to be worked on but…you don't want to rewordify it.  You'd like to work with the original text, click a word and read the definition and, there's no harm in asking, also hear how the highlighted words t are pronounced

The solution

: Select Display mode from the Settings menu, then choose the second choice: Don't reword words/tap to see the definition.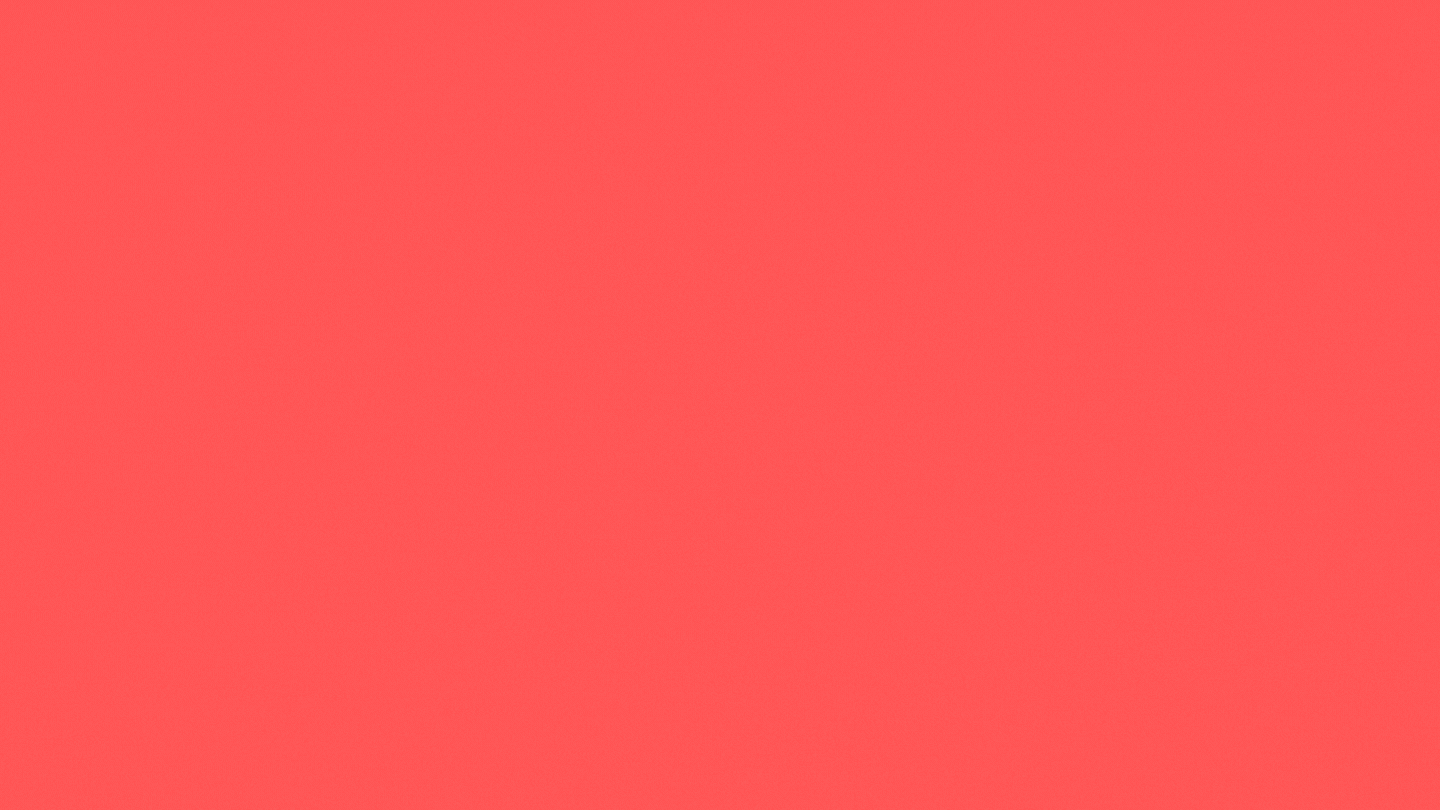 More?
The problem: Yes, Cristina. I agree, it's an awesome tool! Pronunciation, definitions etc… But, I need my students to work a bit on the vocabulary and do some exercises and I don't really have much time to prepare these activities.

The solution

: Click on Print/learning activities and explore all the printable activities Rewordify offers you. A cloze text? No problem! A multiple choice quiz? Easy!!
Have a look below at all the possibilities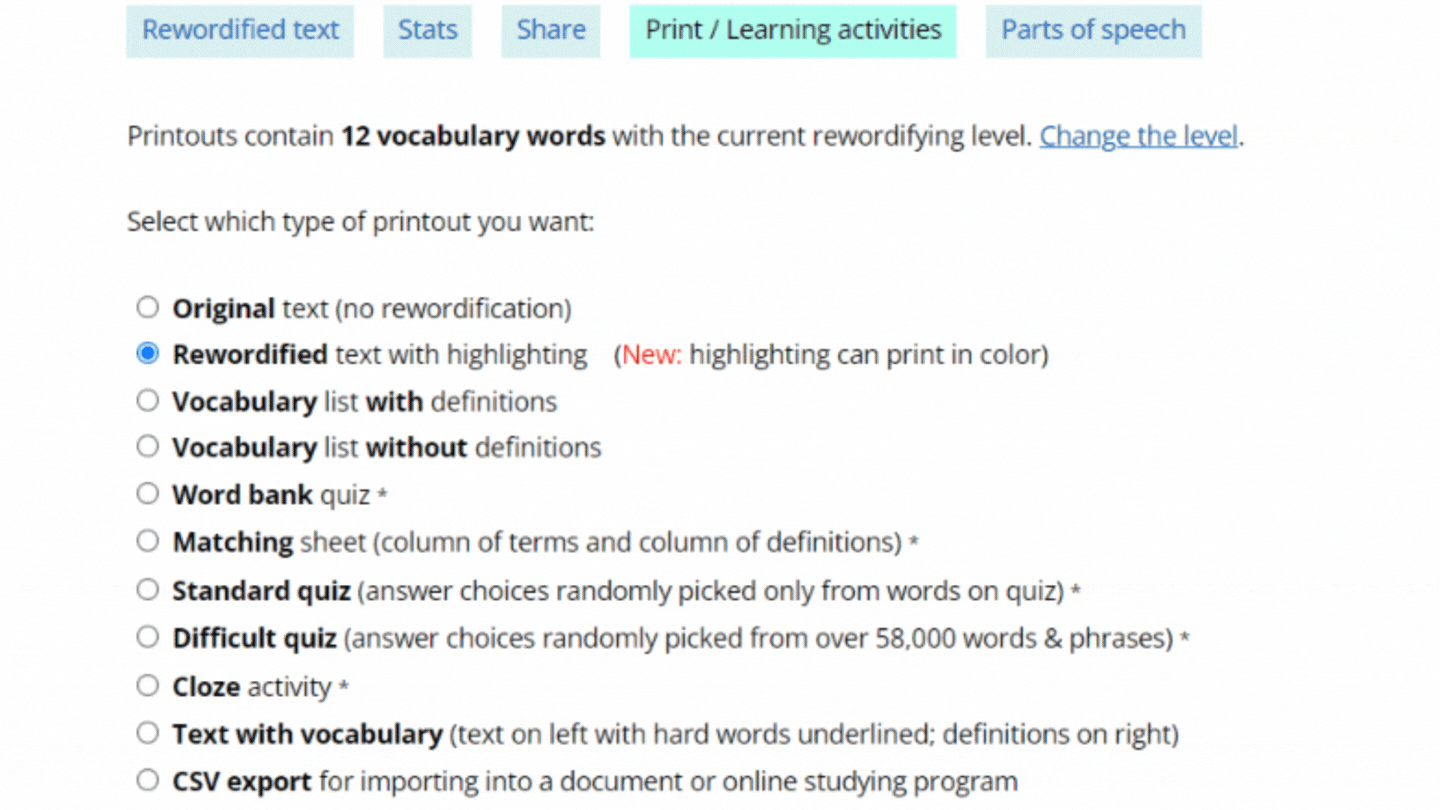 But that's not everything Rewordify can do for you: If you need your students to work on Parts of Speech, Rewordify has you covered, too. To top it all, it's free and online and you don't even have to register. ( I know, I  have already said this at the very beginning of the post but there is no harm in repeating it, I guess) 🙂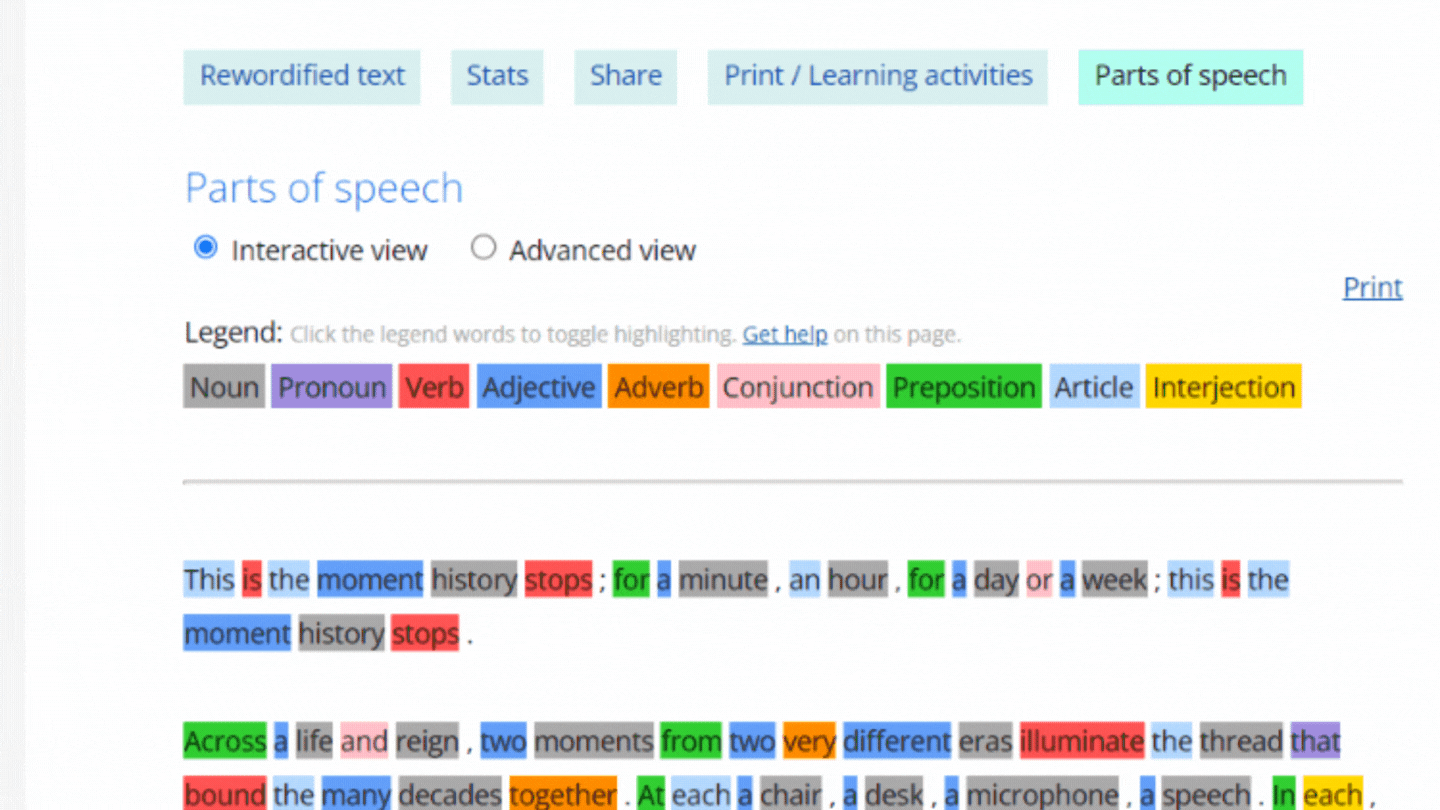 PD: as always, this is not a sponsored post; I only write about what works for me.