I am not saying these three activities are great, but I am saying they are
visual
engaging
effective
dynamic
collaborative
thought-provoking
challenging
Interactive
… shall I continue?
So, they are the perfect answer to introduce and end a lesson about our cities and future cities.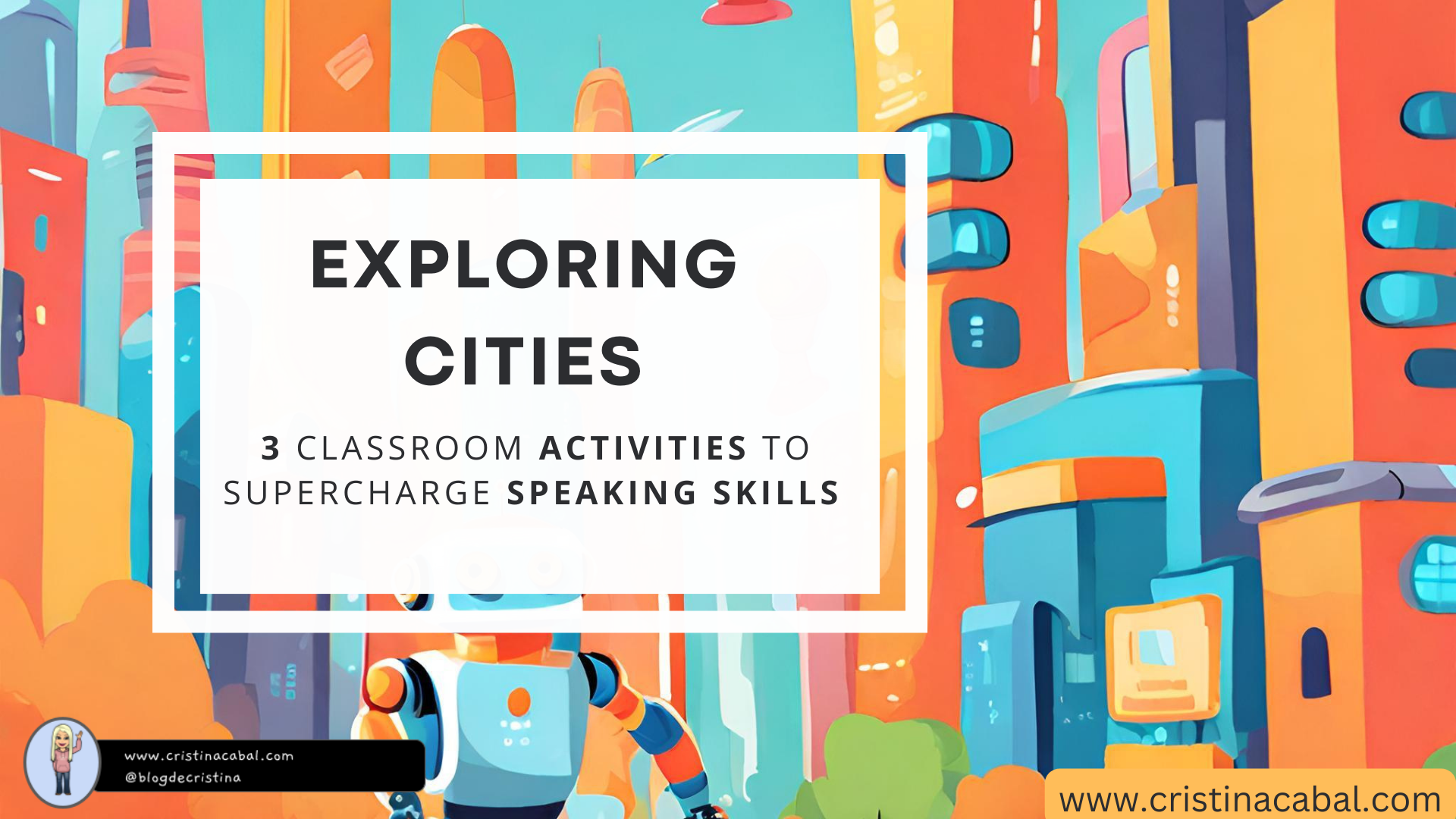 1. INTRODUCING
Ask students to discuss the following question in pairs or small groups:
When you think about the concept of a futuristic city, what kind of city comes to mind?
USEFUL VOCABULARY
Sustainable development
Megacity
Vertical farming
Urban sprawl
Green architecture
High-speed rail
Smart city
Zero-emission autonomous vehicles
Renewable Energy
Sustainable Transportation
Eco-City
Drone Deliver
Display the pictures and allow students time to comment in pairs and then,  have a whole class discussion. These images are unique and, as I am sure you have guessed, created with AI.
HOUSING by cristina.cabal
2. DISCUSSING: GIVING A STUDENTS A CHOICE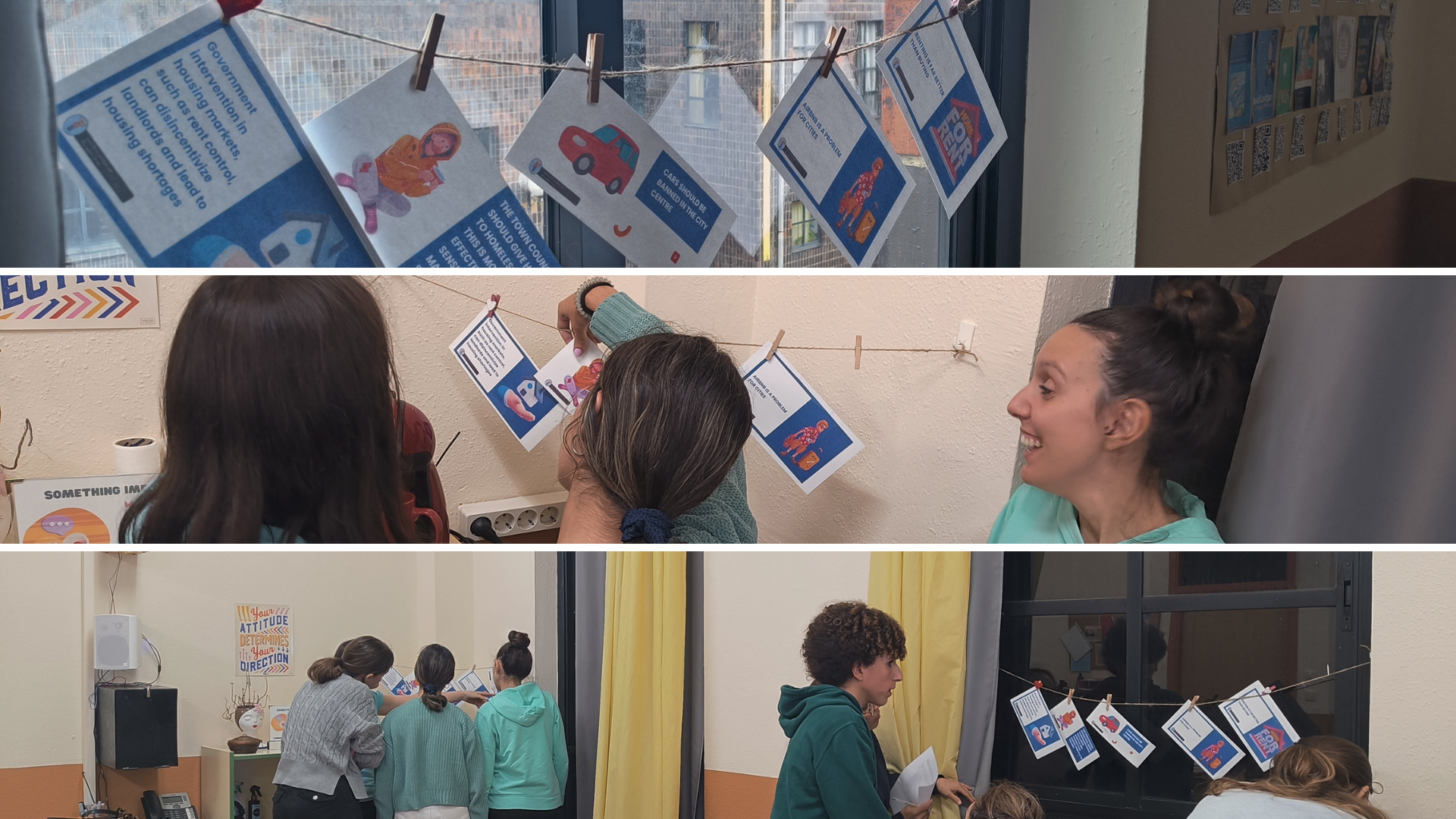 This activity is designed to engage students in debates and discussions based on their chosen statements.
Before the class
In each corner of the classroom, hang a clothesline by using a rope and some adhesive hooks. You will need to assign a corner to each group of 4-5 students
Depending on the number of students you have, you will need to print as many sets of cards (one set for each corner) as groups in your class.
If you make groups of 5 students, you will need to come up with 5 controversial statements. You can read mine below. You will also need clothes pins to hang the cards on the clothesline. Assign a clothesline to each group.
During the class
Give the students a photocopy with some functional language to express opinion, agree and disagree with someone else's opinion. Ask them to choose 3 or 4 expressions from each list and encourage them to use these expressions in this activity.
Divide the class into 4 groups and assign each group to one of the four corners of the classroom.
Tell the students to stand up, go to their assigned corner, and choose the statement (phrase) they like the most or believe they can argue for or against effectively from the cards hanging on their group's clothesline.
Have the students sit down and give them 5 minutes to prepare their arguments.
Start the debate within each group. Student A should begin by showing their card, stating whether they are in favour of or against the statement, and presenting their reasons.
Encourage other group members to listen carefully, take notes, and contribute their opinions to the discussion.
After Student A has finished, it's Student B's turn to present their card and arguments.
These are the controversial statements I have used for this activity
AGREE OR DISAGREE by cristina.cabal
3. THE HOUSING CRISIS. ORAL MEDIATION: retelling in groups
Lead-in activity
Give each student a piece of paper and ask them to write down one idea for addressing the housing crisis. It could be an affordable housing initiative, a zoning policy, or a rent control measure. Collect the papers and randomly distribute them to different students. Put the students in groups of three and ask them to discuss the strengths and weaknesses of the idea on their piece of paper with their group.
The activity
I have used AI to turn text into speech to enhance students' pronunciation. You will find the QR Code with the audio on page 2  (below).
The handout below, Housing Crisis in Cities, is divided into three parts: causes, consequences and solutions
Divide the class in groups of 3 students and assign each student in the group a part ( causes. …). Ask them to individually read their part once, underlining any new vocabulary. Divide the whiteboard into three columns( causes, consequences and solutions)  and ask students to contribute with the vocabulary they have underlined. Explain meanings.
Once all vocabulary issues have been solved, give students about 5-10 minutes to read their part several times. If they want to improve pronunciation, instruct them to listen to their part  (audio provided by the QRCode). PDF here. 
Ask the students that have been assigned Causes of the Housing Crisis to retell the information they have read in as much detail as possible, and then ask the students in their group to contribute with their own ideas by asking :  Can you list more reasons behind/ consequences of /solutions for the housing crisis?
Repeat procedure for Consequences and Solutions, with students contributing with their own ideas.
Finally, engage students in a whole-class discussion.
Housing crisis by cristina.cabal
Follow-up: Give your students this quote: "Housing is a basic human right, and it is the responsibility of governments to ensure that everyone has access to safe, affordable, and stable housing." Ask them to express their opinion about it.
More activities revolving around Cities