Say hello to one of my favourite activities.
Here's what makes this activity perfect for me and my style of teaching
Enhancing their listening skills by listening to authentic audio. Giving students authentic audio they can understand is a real boost to their confidence. Another plus, if there are no comprehension questions, as is the case, students feel more relaxed. Did you know that reducing stress enhances learning? (D Krashen 1981).
Gallery walks using posters which gives students the chance to stretch their legs, and practise their speaking abilities.
A small writing activity related to the posters
Giving students the possibility to work with different students in the class
The lesson
Lead-in
On the board, write the proverb below and ask students, in pairs, to comment on its meaning. Encourage students to share their anecdotes.
When in Rome, do as the Romans do
Listening Comprehension: British manners. A note-taking listening exercise
This authentic material is great for B2 learners. It poses just the right challenge. Not too hard, not too easy!
Tell students they are going to hear a man called Elliot talking about 5 British manners. The task is simple. Play each example of good manners individually and…
First time: ask students to write what manners he is talking about
Second time: play the video again and ask students to take down notes
Pair up students and ask one of them to retell the information offered in the video. The other student listens and /or helps. This role will be changed for the second example of manners
Ask someone to retell the information for the whole class.
Write any relevant vocabulary on the board.
Ask: what about in your country? 
Repeat procedure for the second example of manners. Remember, there are 5 of them.
Gallery Walks: a speaking and writing activity using posters
Can you see any benefits to always working with the same person/student? I cannot. That's why I always encourage my students to change partners regularly. However, some of them are quite reluctant and need a gentle push.
Forming groups: I have used small popsicle sticks to form groups of three.  The sticks were coloured as in the picture and they just needed to find the other two students with the same colour.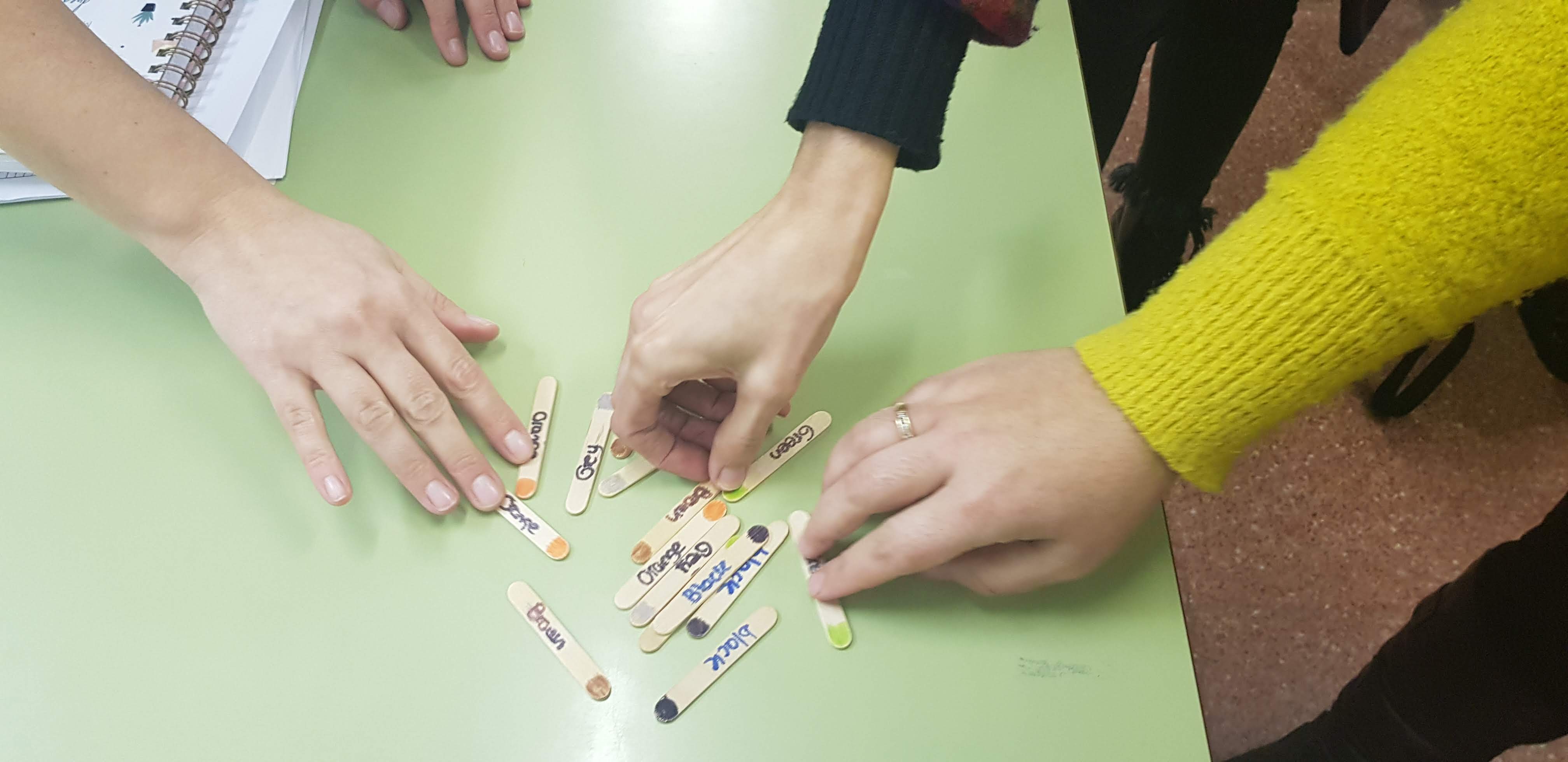 Before the activity: I cut small pieces of paper of different colours and I assigned each poster a different colour
On the walls – I put up simple posters – I had to use the space outside my classroom as my class is tiny. I had six posters: Greetings, table manners, punctuality, gender roles, tipping and taboos.
Students in their groups choose a poster and they are instructed to do the following: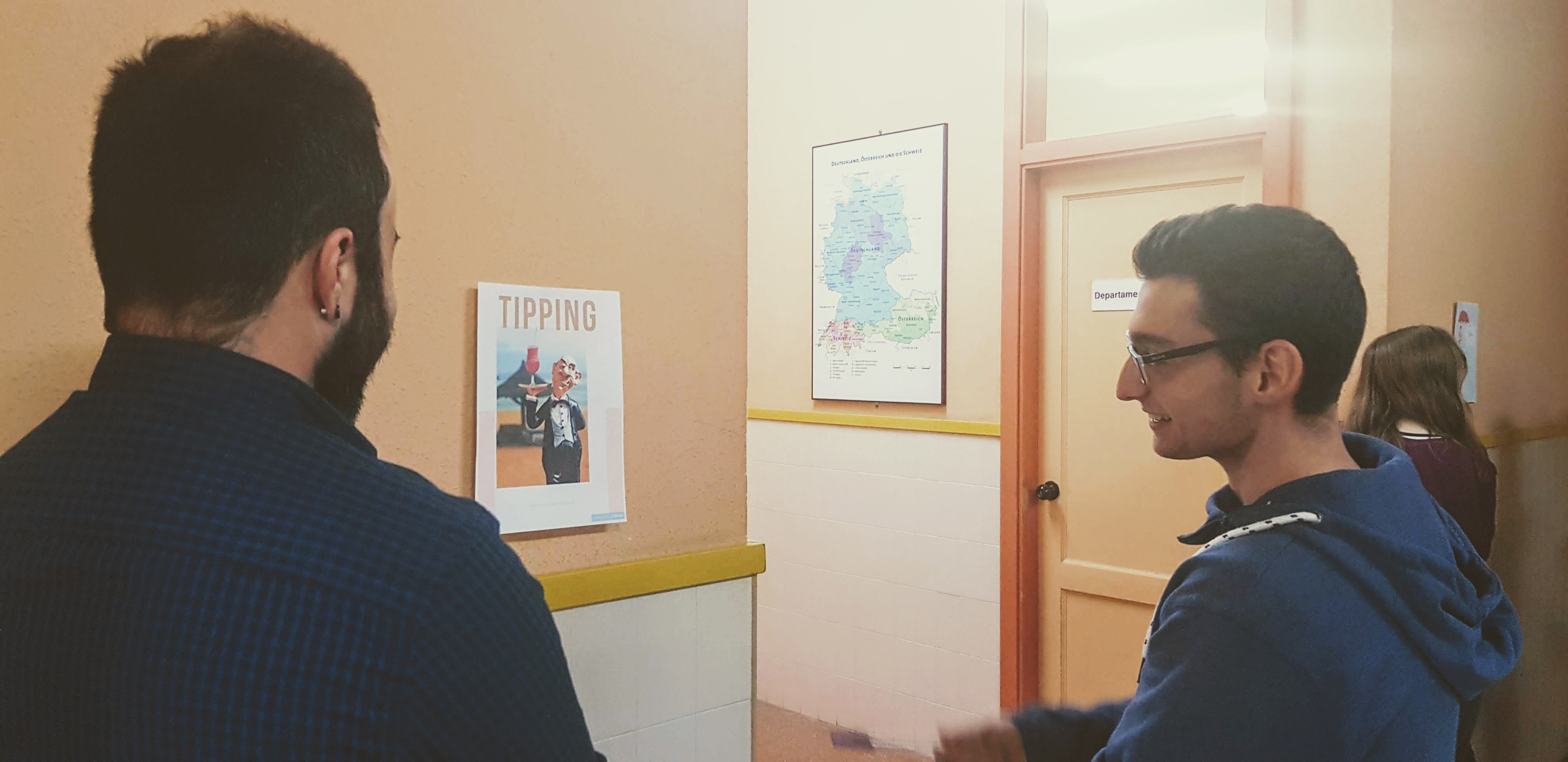 Discuss the manners on the poster in their country and in other countries they might have been to. Is it the same or different?
Before moving to the next poster, students are instructed to take a piece of paper with the colour corresponding to the poster they have been working with and write a piece of advice for someone visiting their country, in this case, Spain.  ( if they were talking about Tipping, they should write a piece of advice on tipping).They were instructed to leave their written piece of advice on the table, choose a new poster and repeat procedure.
Allow 25-30 minutes for this part
Quickly correct spelling and grammar mistakes. Using blue-tack, put all the pieces of advice around the posters the advice has been written for.
Ask students to do a second gallery walk commenting on all the tips and having a look at their mistakes.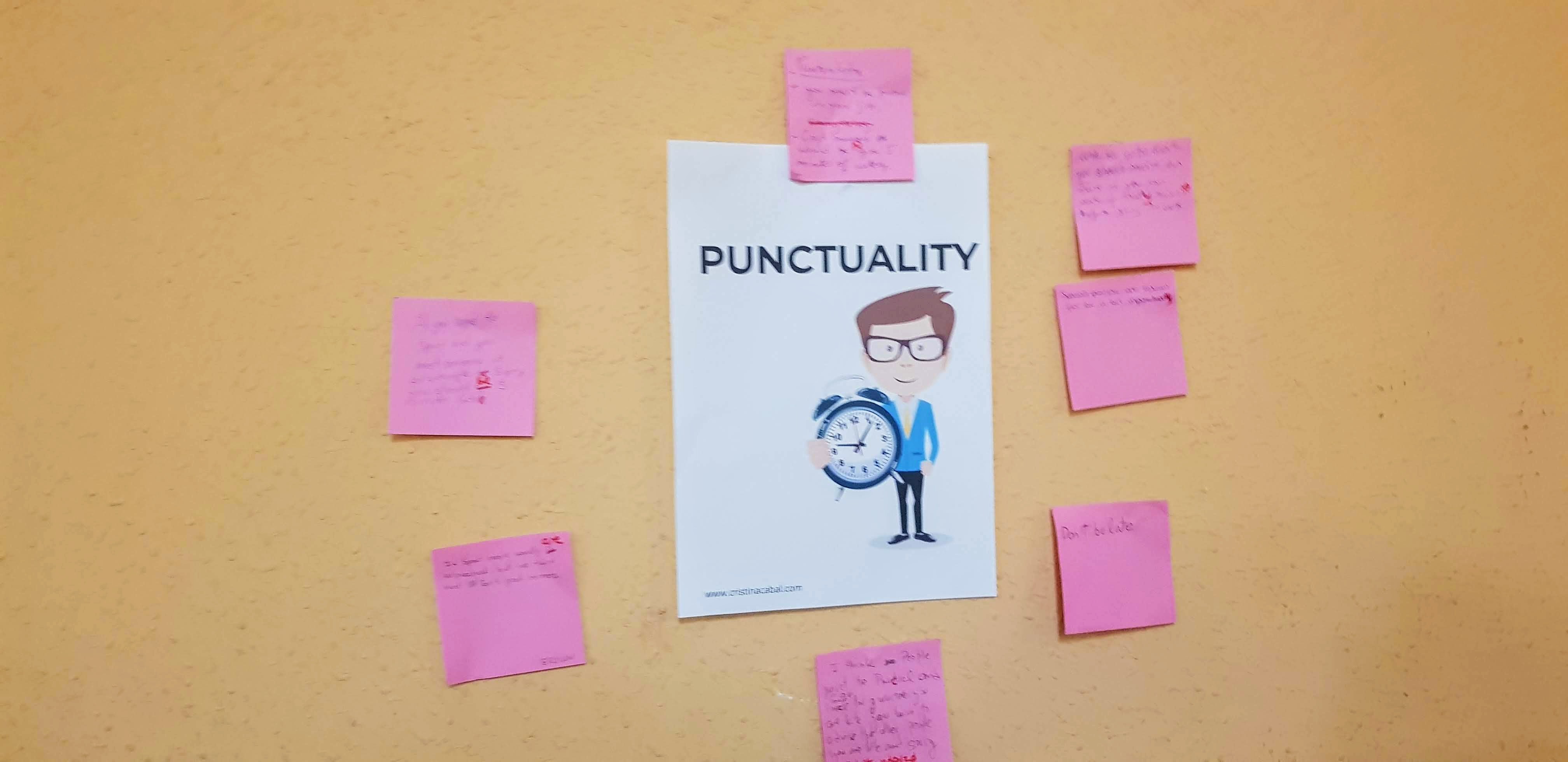 Posters here
Writing an article about an unusual custom in the world
Lead-in:
Ask students: Have you ever experienced culture shock? Where were you? What happened?
Unit 1 in our textbooks explains how to to write an article. Using this format, I have asked students to do a bit of research on the internet and write about an unusual custom. To spice things a tiny bit, I have assigned students different countries using a random wheel.