Is there anything better than taking a summer break? I think not. Problem is that there must be something wrong with me. I need to keep active and this year is going to be a tad complicated with all the restrictions we are facing right now.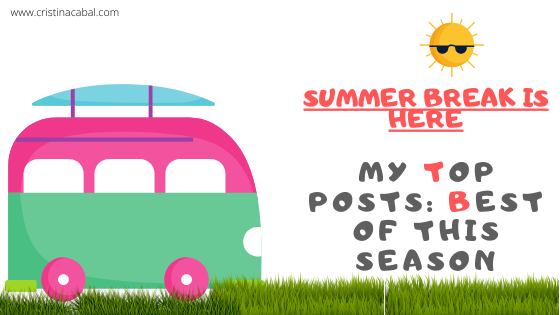 As every year, I am going to take a break from publishing new posts. My classes have finished and we won't resume them until October and this is when I will start publishing again. I really hope to see you all.  I must confess your comments and feedback is essential to me.
I am also working on a catalogue of  10 webinars to help teachers make the most of their online or blended teaching using online free tools to:
promote interaction in online lessons. Yes, we can do it and it is easy.
using whiteboards for effective learning
create original content. Why use what others have done when you can create your own?
create portfolios. Visual and collaborative.
assess skills. Really effective for formative or summative assessment.
create your own animated videos and tutorial. After all, this is what most students watch all day, isn't it? Besides, it is easy and fun and quick.
Now, here is my top ten. Hope you enjoy them!!! See you  in a few months