Undeniable. This course is proving to be quite challenging. Having your students sitting in rows, stuck on their seats and only being able to talk to the person on their right or on their left has me racking my brains trying to find attractive alternatives to some of the successful dynamics I used in the past.
With teaching online on the rise, more than ever I have been juggling different tools to make sure the work my students do at home is relevant, effective and motivating. I think Genial.ly, the tool I have used in this lesson, is a must-have in any teachers' toolbox.
In this lesson, you will find:
Activating prior knowledge:  handout
Introducing new vocabulary: handout
Speaking activity
Engaging game to revise Vocabulary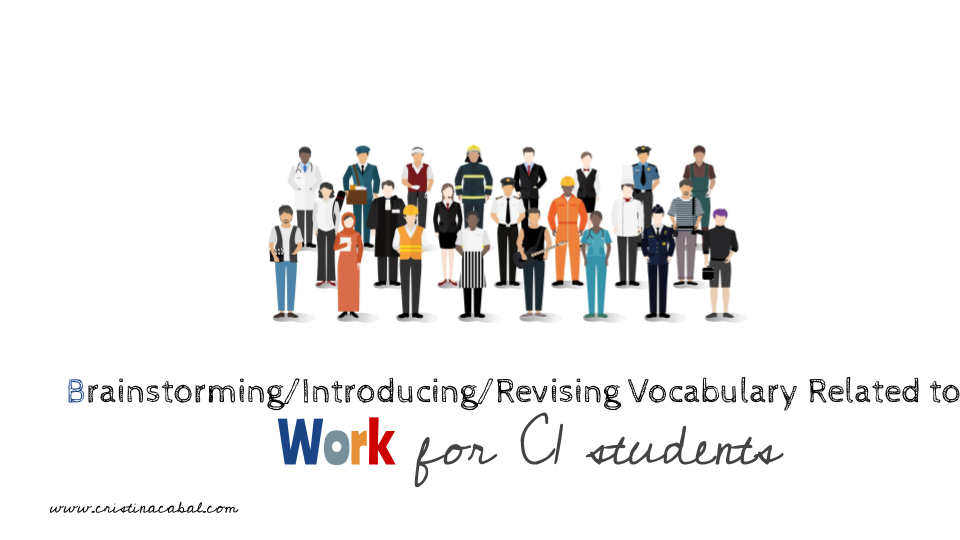 Step 1. Activating Students' Prior Knowledge. Brainstorming
Before introducing new vocabulary, it is crucial to help them activate prior knowledge so that they don't feel overwhelmed by how much they need to learn. Learning expands gradually from previous knowledge and we cannot and should not neglect this important step.
To brainstorm vocabulary, I gave them 2 minutes to write down on their notebooks, words or expressions related to "work". On the board, I wrote Work and then wrote their suggestions, exemplifying, clarifying and drilling pronunciation.
When appropriate and relevant, I also started introducing new terms, like the minimum wage as represented in the picture below.   Some  other vocabulary they came up with is here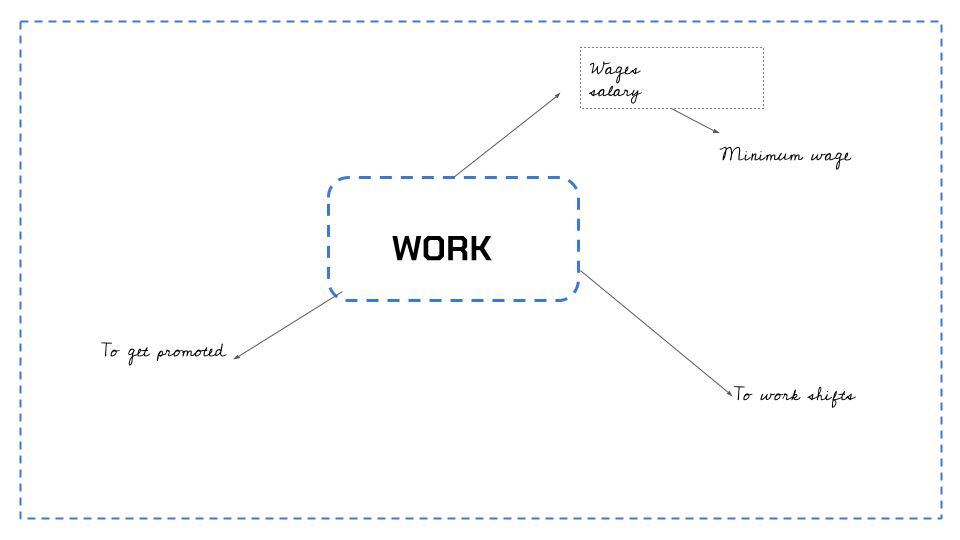 Step 2: Introducing New Vocabulary
PDF here
Individual Work: I gave them this photocopy and a couple of minutes to underline any new words/expressions.
Whole class: Then,  I instructed them to ask the question. Does anyone know what the meaning of…. is?  Only when no one in the class could come up with a clear explanation, did I offer it.  Until then, it is all about asking students to tap into their previous knowledge.
Step 3: Firts attempt at introducing some new vocabulary in a speaking activity
I divided the class into As and Bs and asked As to choose three new words they wanted to use in their speech. I wrote them on the board under the headings A's words/ B's words.
I gave As this statement to discuss: Unpaid internships should be banned and I gave B's Retirement age: higher or lower? I let them have some thinking time and asked them to do the speaking task.
Step 4: Revising Vocabulary with a Game
This proved to be an engaging game to revise vocabulary. You will find the instructions in the second slide, but watch the video with my students doing the activity if you want a sneak peek of how much fun we had.
And here's the game. I have made the template editable in case you want to add your own pictures. To reveal the hidden word, you'll need to hover the mouse pointer over the picture.
More vocabulary