Engaging, challenging and highly effective activity to teach students how to do a  Listening Cloze Exercise! This is a must-do activity to help students learn the technique for a fill-in-the-blanks exercise.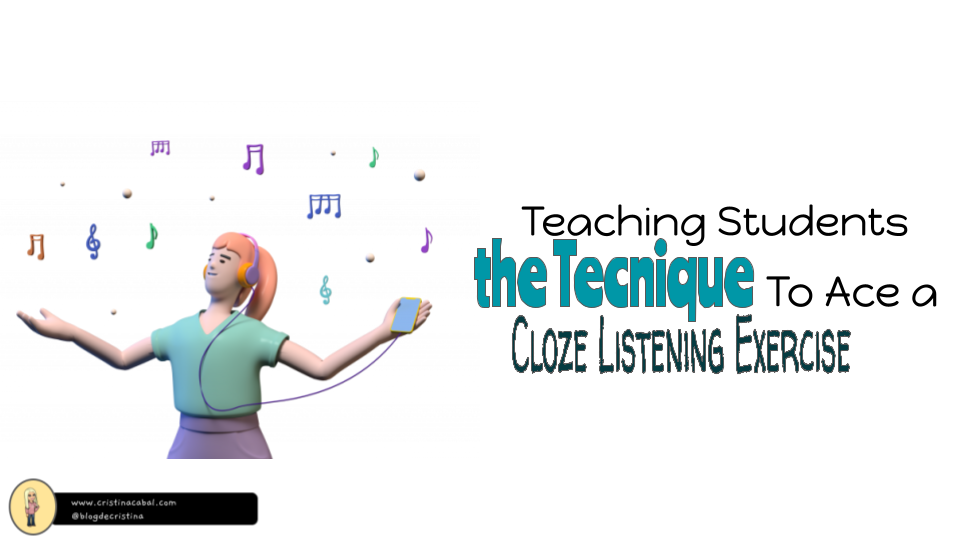 If I have to name the activity most of my older students find highly frustrating, it is probably doing a listening comprehension activity and not being able to understand anything. At least, that's what they tell me. I suspect they are stretching it a tiny bit and they have managed to get the gist of what is being said but, already in a black mood when the audio finishes, they just feel they will never get better. The truth is that getting the gist is not enough when you are unable to answer the questions posed, especially when tested in an exam. That, we both know.
Though I always tell them that they need to work on this and promise that if they make a habit out of listening every single day, they will eventually get it and blah, blah, blah…, the truth is that we, as teachers, also need to find the time to explain how to do this kind of listening exercises.  Because although it doesn't work magic, there is a technique… and it can help them.
It seems to me the beginning of a course is the right time to do it and so, this past week,  I set out to explain this technique.
But, you know me. With a game. Playing.
Step 1- Choose a Cloze Listening Exercise.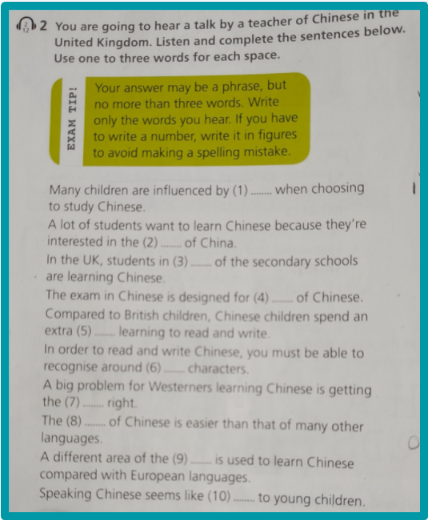 Step 2: Form Groups
Give all students the exercise on paper and ask them to form groups of 3ish people.
Step 3. Explain the Task
Explain that prediction in this kind of listening exercises is key. Stress the importance of trying to predict two things:
The grammatical category of the word(s) that will fit in the gap: is it a noun, a verb…etc?
The challenging part: ask students in their groups to try to guess the word (s) that they think will fill the gap. Ask students to name a secretary in the group that will be in charge of writing down their guesses.
For example in Number 1, one group might write "their teachers" but another group might decide "parents"  is the best option.
Give students some individual time to read the text and start thinking about the options. Then ask them to join their groups and decide on one option for each gap.
Step 4. The Whiteboard
Divide the whiteboard in as many columns as groups- see the picture- and ask the secretaries of each group to come up to the whiteboard and write their options. Comment on any coincidences to build suspense- in the picture, have a look at question Nº 2, they all wrote "culture"-.  Remember you are teaching them the technique, but it is also a game.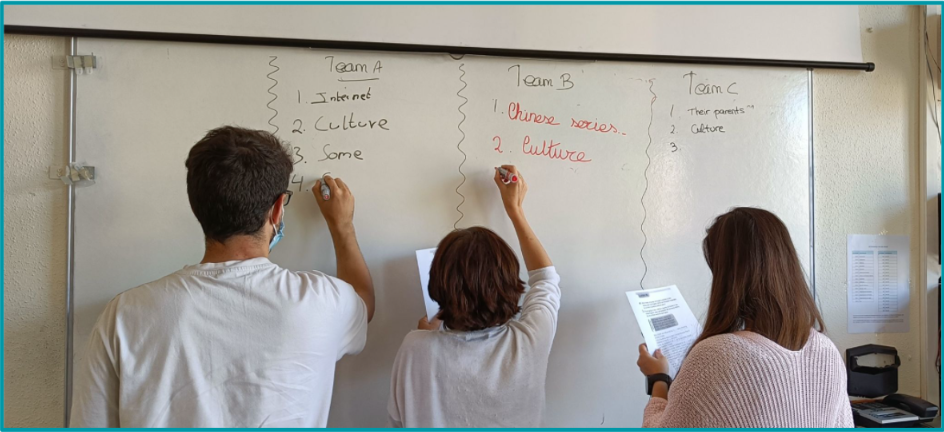 Step 5: the Listening
Play the audio (2 or 3 times). At this point, ask students to focus on their exercises and forget about their guesses.
Step 6: The Winners
Correct the listening exercise. Write the correct answers on the board and give 1 point for every coincidence. You know who the winner is, don't you?
Note: In one class, one group got as many as 4 correct answers without even listening to the audio. Amazing, isn't it?
Do you want to try? Follow all the steps and then listen to the audio. Check. How many wild guesses did you get right? Surely, you can't expect to wild guess the exact number for gaps 3,5 and 6 but you know that it is a number and that, is saying a lot. Answers here.