Mixing traditional and modern teaching? What's the right balance? That's a hot issue and one I haven't yet found the answer to but I feel that there's nothing like the interaction between teachers and students or students among themselves.
In this lesson plan Focus on Films I've combined both traditional teaching and new technologies. I've even published one exercise Film Genres that I'd rather do with my students in class with them taking an active role in their learning process. You choose but what comes below  is how I  definitely plan to do it with my students.
I 've prepared one set of blue strips of paper with the names of famous films and another set of green coloured strips with film genres. All in all I've written 10 strips of paper and then placed them on my table. Students will then come up to my table and do the matching exercise using blue-tack to stick the strips on the blackboard. I'm planning to revise  by showing them only the films and then only the genres.
On the other hand, there is another exercise in this lesson plan where, if I were a student, I'd definitely choose to do using a computer and I'm referring to the brainstorming exercise we normally do on the blackboard. Well,  I've had a lot of fun ( and also wasted a lot of time ) doing this brainstorming  about films with this little application called Simple Diagrams, which I highly recommend (mainly because it's free)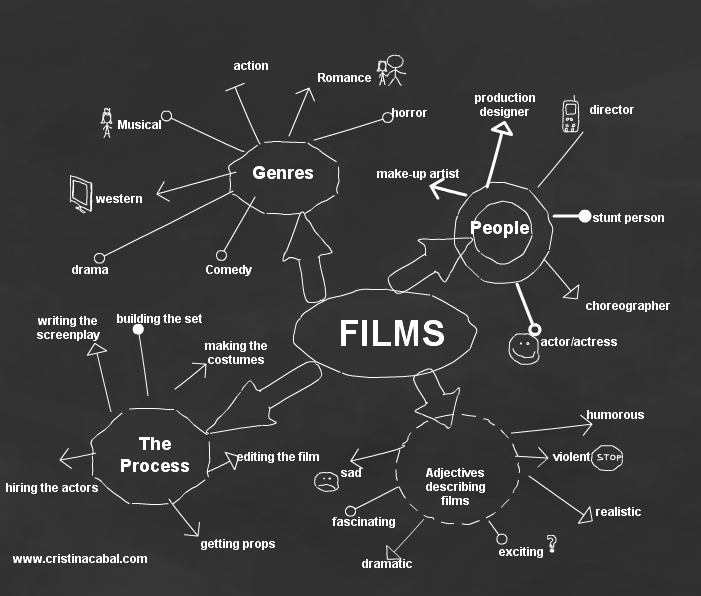 It must have been sheer luck that I bumped into this cool site only last week, just when I was gathering material to use  in the FILMS lesson.


This site has been nominated as one of the 50 best sites in 2010 and it contains about 12.000 film snippets that can be searched by genre, director, props, setting…etc. Isn't it just unbelievable that you can even choose Action  and under this category choose whether you want a clip with a cough or a bump or a cry? Isn't it just as amazing that you can choose the clip by Mood; do you want something inspiring,creepy or maybe funny?
The whole lesson, designed for intermediate students, comes with Vocabulary, Reading, Listening and Writing exercises. Click HERE to do it