I've been meaning to use  Glogster for quite a while but I

was waiting to for the right activity to make the most of it. As you already know, if you're a regular reader, I normally teach adults so I didn't quite know what sort of activity was best for this tool to show off.
But, what is Glogster? It is a tool that allows users to create free interactive posters (also called "glogs"). How can you build your poster?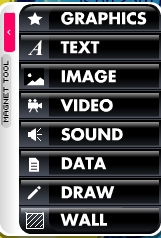 ♥Uploading video or photographs
♥Decorating your poster in different styles (retro, pop…)
♥Adding  text, choosing from different backgrounds
♥Putting a link to another page, video…etc
♥Choosing your own background image for the wall of the Glog
♥You can make your wok public or private
♥You can embed it in your blog or website
It goes without saying that you'll need to register, but it's free. I've created a poster with my youngest students who still ahh and ohh about bright colours, moving graphics and funny stuff. You can see the poster below, nothing to write home about but I'm sure you can do better than me.
Once I got started, I saw the potential it had, even for my adult students.
♥Photograh description
♥Book /film reviews
♥Post stories or poems
Time to be creative and have fun!