I was racking my brains about what to do to make you use and study the new vocabulary related to food we have been learning in class when divine inspiration knocked on my door and it suddenly dawned on me, always on the search for new recipes, to ask you to write one… but not just any recipe but a recipe that would make anybody 's mouth drool . Now, I know some of you are going to say …."but teacher I don't know how to cook" so what? Better late than never!! Ask at home, parents , grandparents ..I'm sure they have a wonderful recipe to share , maybe in the end you'll thank me for rescuing that wonderful recipe your grandmother used to cook for you.
My favourite dish is Spanish Omelette and this is the recipe I'm going to share with you as I've been the proud winner of the I Spanish Omelette Cooking Contest of my hometown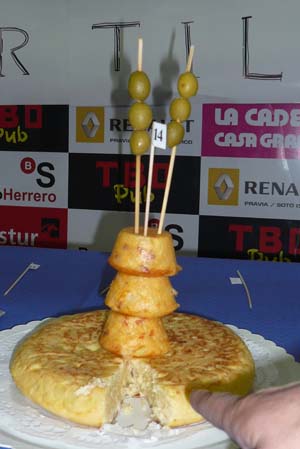 You'll need. (serves 4) · 6-7 medium potatoes, peeled
· 1 spring onion
· 6 large eggs
· 2-3 cups of olive oil for pan frying
· Salt to taste
· Baking Powder
Cut the peeled potatoes into thin slices. Peel and chop the onion into small cubes. Salt onions and potatoes to taste.
In a large non-stick frying pan heat the oil (the oil should almost cover the potatoes). When it is hot enough ,place and spread the potatoes and the onion into the frying pan.The key if for this mixture to cook very gently so you might need to turn down the heat slightly. Stir from time to time with a slotted spoon. You will know that it is cooked when you poke a piece of potato with the spoon and it easily breaks in two. Place the mixture into a bowl removing as much oil as you can.
Now, crack the eggs into a bowl ,add a small spoon of baking powder and beat them with a fork. Pour into the potato onion mixture and mix together with a large spoon.
Now, pour two tablespoons of olive oil into the frying pan. Heat it. Pour the mixture and spread it evenly. Allow the egg to cook around the edges. When the mixture has browned on the bottom, you are ready to turn it over to cook the other side. Place a plate (about the size of the pan) upside down over the frying pan to cover top and quickly turn the frying pan over and the omelette will fall onto the plate. Then. Slide the omelette into the frying pan and let it cook for as long as needed. And you're done!! Enjoy your nice meal!!