Now that you have a certain skill at mastering new structures it's time to improve your vocabulary. There is no point in learning a new word unless you know how to use it and it is also important to understand how words are used.
So here is a cool site you can enjoy. It is called WORDIA. What is this and what are they? I quote "We're a team of language enthusiasts and general word nuts who have joined forces to create a new kind of dictionary – a democratic 'visual dictionary'. A place where anyone with a video, webcam or mobile phone can define the words that matter to them in their life."
As anyone can record words , it goes without saying that I accept no responsibility for anything incorrect, improper, wrong … you name it.
Click on the image and try it.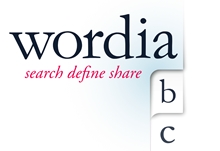 You can also get a new video sent to you everyday, just by adding your email address to the subscription field and each day you will be sent a link to the newest word.
Related links: