Yes, yes I know classes have finished. So what? If you haven't taken your speaking test, this post might still be useful .
I just couldn't let it pass. I saw it and I immediately thought about you,  struggling at home, getting  no help at all and feeling utterly miserable without my wise guidance 🙂 ha,ha,ha
Well, let's stop rambling and get to the point. What you'll find below are two pictures and someone comparing the two pictures.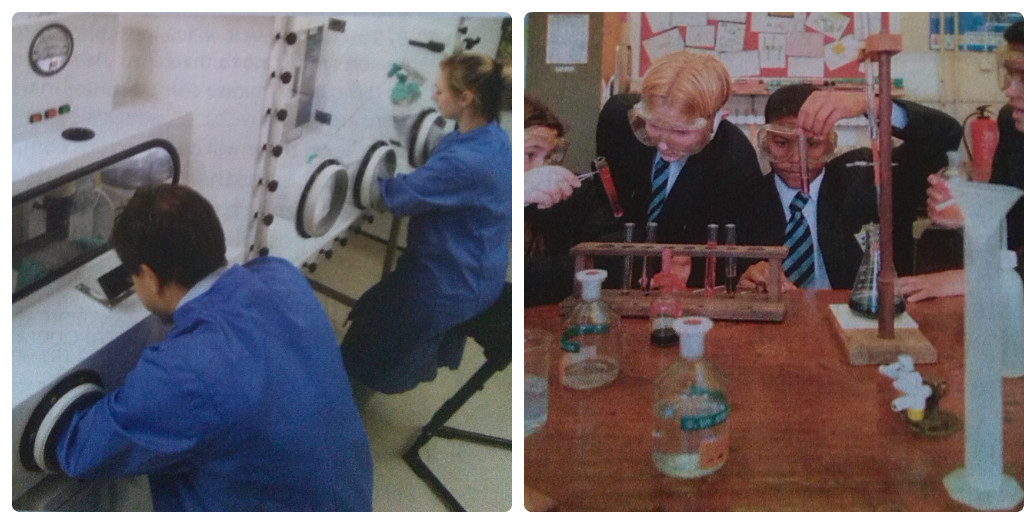 Well, they are clearly both connected to the topic of science… but in two quite different contexts. In the first one, there are two people- they're probably lab technicians from the coats they are wearing- or I guess they could be research students or something like that. Anyway, they seem to be watching some kind of monitor but I am not quite sure why. The guy in the foreground seems to be holding something which might affect what they can see on the monitor. … it's not all that clear.
In contrast, the second picture is of four schoolchildren, probably in a science class. They're all wearing plastic yellow glasses of some sort… probably to protect their eyes from chemicals or something. They are sitting at the same desk. the one on the right, .. he is holding what looks like a plastic bottle.. which must have liquid in it.  There's some kind of tube-like thing and plastic containers on the desk.