Hi, hey! How are things?
Have you read my last post?? It's all about first-day activities to get to know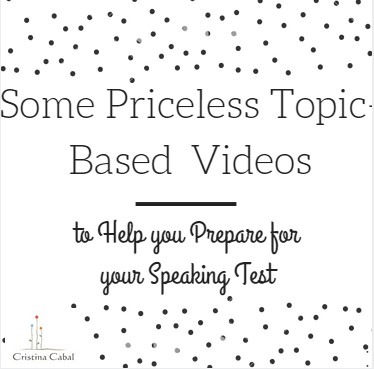 my new students. Are you going to be one of them? I hope so!
Lessons start on  5 October  and I am totally in teaching mode. In September ,some  of my students will need to take the oral exam again and I thought it might be a good idea to share with you some priceless videos that I found on youtube  this summer.  I wish I had shared them with you before exams in June, but I didn't know about them just then. Anyway, I hope you can still make good use of them.
What I am going to show you in this post is the website of an English teacher, Marek Connell ,and his awesome videos on how to answer the questions in the Escuela Oficial de idiomas Intermediate (B1) and Advanced (B2)speaking exams. I have to say here that in my region (Asturias) EOI exams  don't  follow exactly the same procedure Marek explains in his videos, ie, students cannot take notes and they do not have 10 minutes to organise their speech, but what I like about his videos is that he shows how a fluent speaker would answer the questions related to a given topic.
For each topic I will show you:
• From my own website: some questions you could be asked
• From Marek Connell 's website, his own videos showing how  a native speaker (himself) would answer  some of these questions. Click to visit Marek's website
So, pen and paper at the ready? Here we go.
1. FAMILY, FRIENDS, RELATIONSHIPS
♥Questions about your dream partner

2. WORK
3. CLIMATE AND THE ENVIRONMENT
♥Questions about the environment

4. EDUCATION
♥Vocabulary and Questions about Education

5. SHOPPING AND CONSUMERISM
♥Questions about Fashion and Trends
♥Questions about Going Shopping
6. ANIMALS AND PETS
7. SPORTS
♥Questions about Violent Sports

8. STEREOTYPES
♥ Lesson Plan about National  Stereotypes with Vocabulary and Questions
 
You'll find more  topic -based questions  on my website Blog de Cristina. Click here,please .