I must have been in my teens, but I vividly remember my mother telling my father that someone called James Dean had called. The funny part was not only that the famous now-long- deceased actor had phoned my dad, but the way everybody pronounced his name, /jamez dean/, as if it was the most natural thing in the world, while me and my naughty siblings couldn't help cracking up, repeating /james dean, james dean/while in stitches. (The Spanish pronunciation of the "j" is similar to the Scottish word "loch" or the German word "Bach")
In case you are wondering, my parents (now almost 80)  had never ever heard a word in English so everybody said /james dean/ just like that and never gave it a second thought. We, me and my three siblings, just liked fooling around. I know better now!! 🙂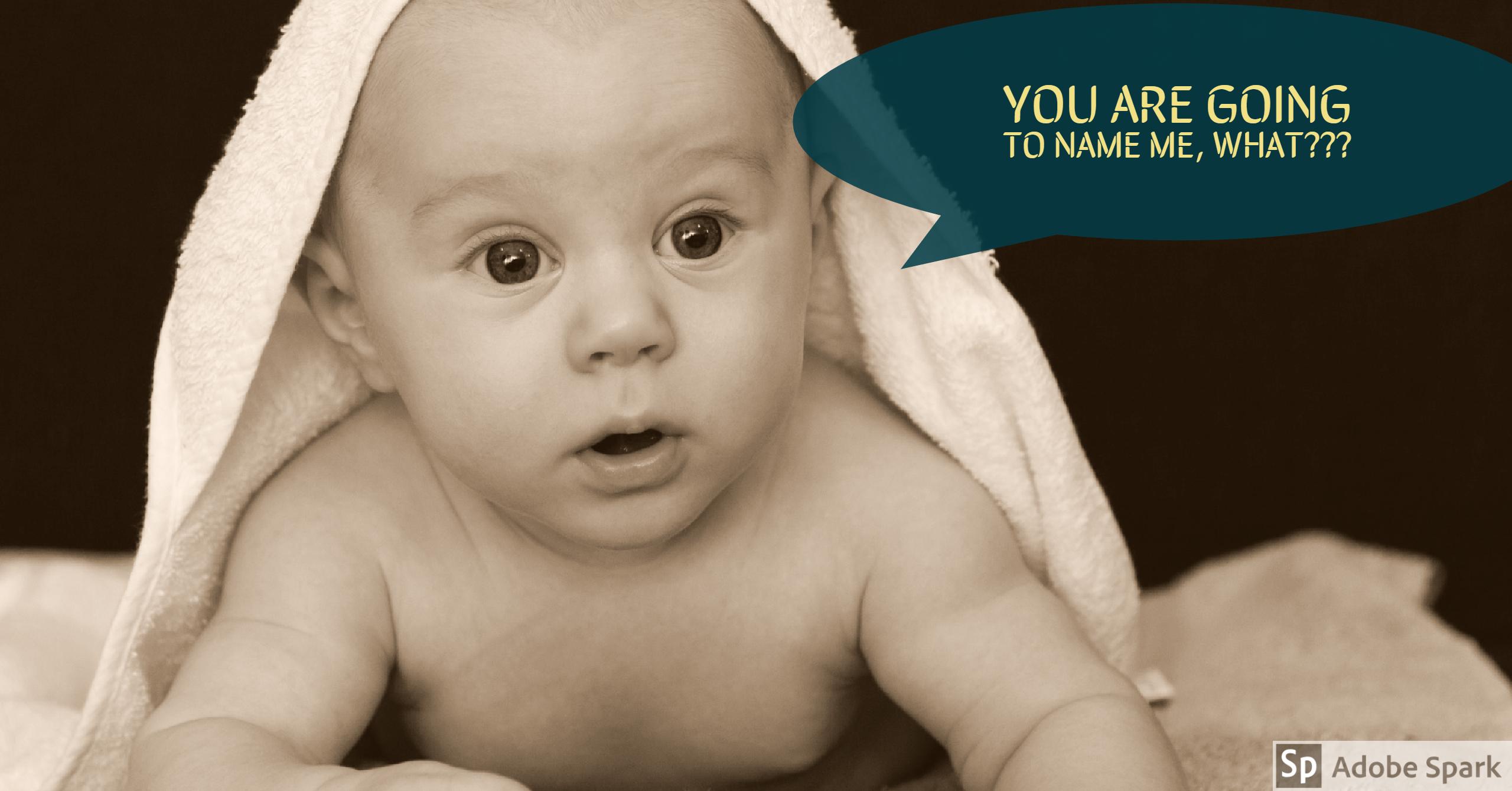 About the lesson:
In this lesson, aimed at B2 students and above, students discuss their names and their personalities through some engaging activities.
In part 2, you have the possibility of asking students to use their own devices and complete the task in class or alternatively set the task for homework.
---
Part 1. Talking about your name
A video-based listening activity
Tell students they are going to watch a short extract from the Graham Norton show, where the actresses Meryl Streep and Nicole Kidman discuss their birth names. Play from 0:00 until 2:50.
Introduce: 
To be named ( after someone)
To name someone
A pet name
A middle name
A nickname
Procedure:
Play the video once and ask students some comprehension questions. Play the video a second time if necessary.
Meryl Streep was named Mary at birth. How did she end up being called Meryl?
Is she happy about her surname? How does she wish it to be different?
Why is Nicole Kidman called Hokulani? Who is she named after?
Discussion questions:
Are you happy with your name? Why (not)?
Does your name have a meaning? If so, what does it mean?
Do you have a middle name? What is it?
Do you have a nickname? If so, what is it and how did you get it?
If you could change your name would you? What would it be? Why?
U2's lead singer, Bono, called his daughter Memphis Eve and Gwyneth Paltrow's daughter is called Apple. Do you know any "normal people" with unique baby names? What about you, do you prefer giving your child a more traditional name or a unique name?
In some countries, when women marry they take their husband's last name? What do you think of this?
---
Part 2. Talking about your personality
In this second part, we are going to revise and learn some more complex personality adjectives.  To introduce personality adjectives we are going to use a website which analyses your personality based on the numerical value of your name. Whether students believe in it or not should be irrelevant, we are only interested in language acquisition here.
The warm-up
As this lesson is aimed at upper-intermediate students and above, students will have some prior knowledge of the most common personality adjectives, at least enough to get them started.
Choose any activity from 10 Games and Activities to Practise Personality Adjectives, a very successful – if I might say so-blog post I wrote last year
Homework.  The Website.
Ask students whether they think a name can shape their personality and refer them to this website where they'll have to write their name in the space provided and read about their personality.
You can always ask them to read their horoscope, but this is "old news", so I thought this might better spark students' interest.
At home, students go to the website and find out about their personality based on their names. They look up any new words they don't know, especially personality adjectives, as they will need to share this analysis with their classmates and say whether they agree or disagree with it, giving reasons.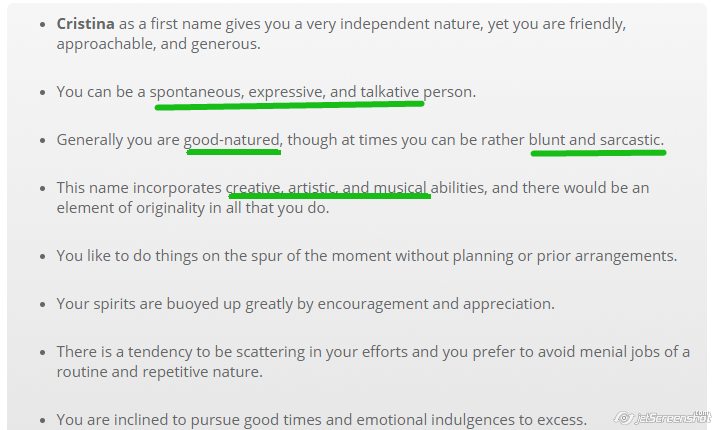 Gathering Feedback
This activity can be done in a traditional way i.e board and chalk. Students call out an adjective and you write the personality adjective on the board.
Again, with the aim of creating a more engaging activity, I'm going to use a free online tool called "Answergarden" to get instantaneous feedback. The tool is very easy to use. Here's a tutorial in case you need it, but it really has a very friendly intuitive interface making it very easy to use, even for those teachers who are not too tech-savvy. The app takes students answers and creates a word cloud that can be exported or embedded.  Students will need to use their own devices but, if necessary, every three students can share one.
Once you have created the word cloud in Asnwergarden, use the overhead proyector to display it and ask volunteer students to explain the meaning of the adjectives and say whether they think it is positive, negative or neutral.
Below, an example of a word cloud created with Answergarden.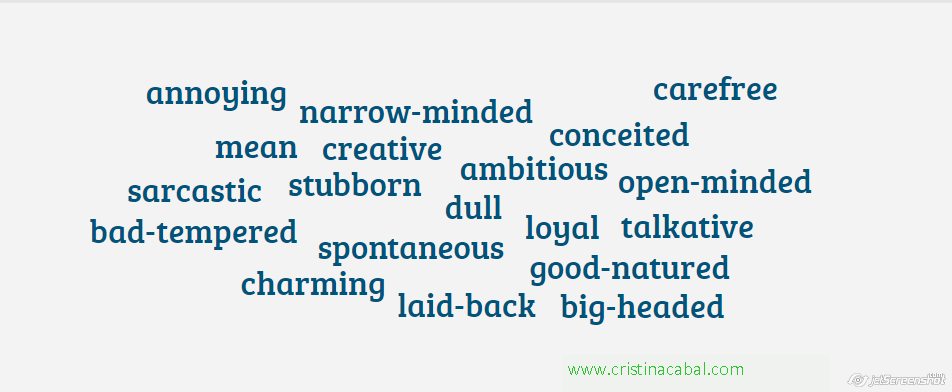 Speaking
Put students in pairs and ask them to share their name report from the website and say whether they agree or disagree with such analysis.
Ask them to discuss the following questions.
What kind of people do you usually get along with?
What kinds of personality traits do you hate?
Is your personality more similar to your mother's or father's?
Do you think we are born with our personalities, or do we develop them because of what happens to us?
Do you tend to fall in love with good looks or with a great personality?
Does one person's character affect the personalities of the surrounding people? Are you influenced by anybody you know?
Does birth order affect personality? What qualities do a first-born child, a last-born and an only child have?
The Quiz: As Free as a Bird. 
Let's go the extra mile! In this quiz, you'll find more colourful ways to talk about someone's personality. In order to learn them, I suggest taking the quiz two or three times, the last time checking if just by looking at the picture students can remember the simile.
After doing the quiz, you can always ask some follow-up questions like:
Do you know anybody who is as stubborn as a mule?
Enjoy!