Do you speak Spanish? Then, it's your lucky day today! Why? Because without you being aware of it, you know lots of personality adjectives in English. Unfortunately, in most cases, you'll  still have to learn the Germanic equivalent if you want to sound informal, but we are off to a good start and besides, sometimes we all want to sound a bit more academic, don't we?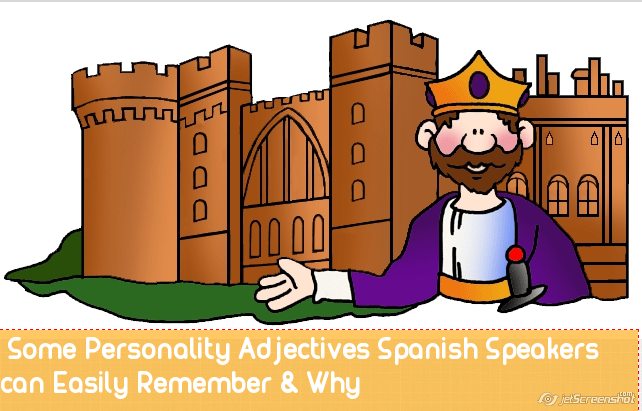 A bit of history first.
Why does English have so many words of Latin origin?
Although some of the most frequent used words in English have Germanic roots, there are lots of words in English that have Latin origins.
This is due to the fact that during the Renaissance period, which started in France but reached England via France, there were a lot of new ideas or old ideas rediscovered. The problem was that there were no words to describe them in English, so the language adopted or adapted Latin words. In fact, during this period the English lexicon is said to have doubled in size.
What is more, for more than a century, the English aristocracy couldn't speak any English. William the Conqueror had conquered England (1066) but he didn't speak the language and although he tried at first, he very soon gave up. He was the first Norman King of England and all the barons he appointed spoke French. But not only did the aristocracy speak French, the religious institutions also spoke French. And that's the reason why Latin words sound more prestigious than Germanic ones.
About 10,000 French words entered English in the century after the Norman invasion.
It was not until 1204 that the English nobility lost their estates in France and it is then when they started to adopt English as their language, but the Latin form coexisted with the Germanic one.
So, English has a huge number of synonyms, where the main difference is the level of formality, being the prestigious form the Latin option.
Think for example of the adjectives friendly, motherly or clever and their synonyms amicable, maternal and intelligent where the difference is the level of formality, being the Latin choice the most formal one.
So, these are some of the adjectives to describe personality you didn't know you knew. Warning: spelling sometimes is different. Every cloud has a silver lining!
Source: Oxford Dictionary blog
At the end of the list, you'll find a spelling quiz .
PERSONALITY ADJECTIVES SPANISH PEOPLE CAN EASILY REMEMBER
Responsible /rɪˈspɒn.sə.bəl/
Rebellious /rɪˈbel.i.əs/
Emotional /ɪˈməʊ.ʃəəl/
Anxious /ˈæŋk.ʃəs/
Strict /strɪkt/
Adventurous /ədˈven.tʃəəs/
Affable /ˈæf.ə.bəl/
Calm/kɑːm/
Considerate /kənˈsɪd.əət/
Ambitious /æmˈbɪʃ.əs/
Generous /ˈdʒen.əəs/
Sociable /ˈsəʊ.ʃə.bəl/
Creative /kriˈeɪ.tɪv/
Diplomatic /ˌdɪp.ləˈmæt.ɪk/
Intellectual /ˌɪn.təlˈek.tʃu.əl/
Intelligent /ɪnˈtel.ɪ.dʒənt/
Passionate /ˈpæʃ.əət/
Persistent /pəˈsɪs.tənt/
Practical /ˈpræk.tɪ.kəl/
Romantic /rəʊˈmæn.tɪk/
Competitive /kəmˈpet.ɪ.tɪv/
Aggressive /əˈɡres.ɪv/
Insecure /ˌɪn.sɪˈkjʊər/
Impatient /ɪmˈpeɪ.ʃənt/
Patient/ˈpeɪ.ʃənt/
Immature /ˌɪm.əˈtʃʊər
Mature/məˈtʃʊər/
Affectionate /əˈfek.ʃəət/
Independent /ˌɪn.dɪˈpen.dənt/
Stupid /ˈstjuː.pɪd/
Honest /ˈɒn.ɪst/
Organized /ˈɔː.ɡəaɪzd/
Imaginative /ɪˈmædʒ.ɪ.nə.tɪv/
Conservative /kənˈsɜː.və.tɪv/
Conventional /kənˈven.ʃəəl/
Cruel/ˈkruː.əl/
Extrovert /ˈek.strə.vɜːt/
Introvert /ˈɪn.trə.vɜːt/
Modest /ˈmɒd.ɪst/
On the hand, be careful with these "false friends".
Sensible /ˈsen.sə.bəl/= someone who has common sense and is practical
Sensitive /ˈsen.sɪ.tɪv/ = a person who is easily hurt or offended
Sympathetic /ˌsɪm.pəˈθet.ɪk/= someone who understands other people's feelings
Here's a little spelling quiz.