There is no denying I use a lot of technology in my classes. It gives me great pleasure to discover a new tool and design an activity around it. I really think this is what keeps me motivated after so many years teaching. The challenge that mastering a tool brings and the possibility to use it in my classes to boost students' motivation and spark their interest is certainly something that keeps my own motivation alive and kicking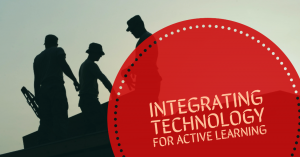 Today, I would like to share with you an activity that I did with my intermediate students. I loved designing the activity and the way my students got involved activating their communicative and writing skills during the whole process.
Tools used:
Aims:
to develop students' communicative skills
to develop students' writing skills
to revise vocabulary related to "work"
to integrate technology in the classroom
to encourage collaborative work
Before the class.
I created a Google presentation using Google Slides and wrote the content for the first two slides. I also added three extra blank slides (see below)
I created three Padlets and called them: Work 1, Work 2, and Work 3
In each of these 3 blank slides I inserted a link to one of these Padlets.
During the class.
 One. I asked students to form groups of 4. I have 12 students in this class, so I had three groups, one for each blank slide. If you have more students, you can easily add another slide to accommodate two more questions. I asked each group to write three or four questions related to "work". I certainly encouraged them to come up with some juicy questions and avoid simple ones such as "Where do you work?"
Two. Once they have written their questions, the groups read them aloud and the class decides on the best two from each group to keep.
Three. At this point, there are two things you can do
Assign each group one of the three slides and ask them to write their two questions, being careful not to delete the link to Padlet. Share the link for your Google Drive presentation making sure you share the link with editing permissions (read and write).  I have shortened the link using Google shortener.
If you think this step might be complicated for your students, you can always write them yourself. Have the groups dictate their two questions and move on to the next stage.
Four: Speaking. Ask students in their groups to discuss the questions in the three slides encouraging them to use work-related vocabulary. Get feedback.
Five: Set homework.
Show the presentation from the very beginning where they will see the instructions for their homework.
Explain that at home they will need to answer one of the two questions in each slide. They can do it by writing their answers or by recording them.
Remind them it is the same shortened link you shared with them in Three.
See one of the Padlet below