FAMILY, in capitals, because is there anything more important in this world?
"Family is not an important thing, it's everything."Michael J. Fox. How far do you agree with Michael J. Fox?
This is a lesson for Intermediate students (B1) about Family. In this post you will find
A video about traditional and non-traditional families.
Some vocabulary you might need to revise/learn when discussing this subject.
Guided speaking: questions to discuss+ answers offered by a native speaker  (Flip Cards).
Freer Practice: pictures to describe and some questions to discuss in pairs or small groups
The first activity in this lesson (the video) will be set as homework.
1. The Video. What Is a Non-Traditional Family? – Definition of Options.
It is a long video. It lasts 8 minutes so I'd suggest breaking it up and asking students to work on different parts of the video.  In the video five non-traditional /alternative households are mentioned.
In class, show students the video and explain it discusses traditional and non-traditional families.
Explain that everybody will need to listen to the introduction where the concept of traditional family is explained (from the beginning – 1:02).
Explain that in the video Erin Long-Crowell, an educational psychologist, talks about five different non-traditional/alternative households.
Form groups of five students and tell them that in the next lesson they will be working in groups of five and each of them will share what they have learned about their assigned non-traditional household.
Assign tasks for the different students in the  group
Student 1: single parenthood 1:07-2:20
Student 2: cohabitation 2:20-3:23
Student 3: GLBT 3:23-4:32
Student 4: Polygamy 4:32-5:21
Student 5: Singlehood 5:21-6.30
(video no longer available on youtube) Click here to see it
2. Vocabulary. Family Life
Phasal Verbs
To take after your mum/dad
To bring up a child
To fall out ( with your sister)
To make up
To get on (well) with sb
To get along with sb
Verbs
To raise your children
To adopt
To quarrel with your siblings
To get divorced/ to be divorced
To share ( a bedroom)
To cohabit/kəʊˈhabɪt/
to start a family
Expressions
To have (a lot of) things in common
To get together
(A cousin) on my father's side
To be close to
(not) to see eye to eye
To be the main breadwinner= the person in the family who earns the highest income
to be under age
to come of age
Nouns
A family gathering/ reunion /get-together
Childhood
Birth rate
Birth order
relationship
Immediate or nuclear/extended family
Twin
a spouse
Sibling (rivalry)
A parent
your significant other = Aspouse or long-term sexual or romantic partner
one-parent families
In-laws
Exhusband
Half brother
relationship
Step brother
A relative
Ancestors=aperson, typically one more remote than a grandparent, from whom one is descended
An only child
memories
Adjectives
traditional and non-traditional family
single parenthood
Close knit family
PDF here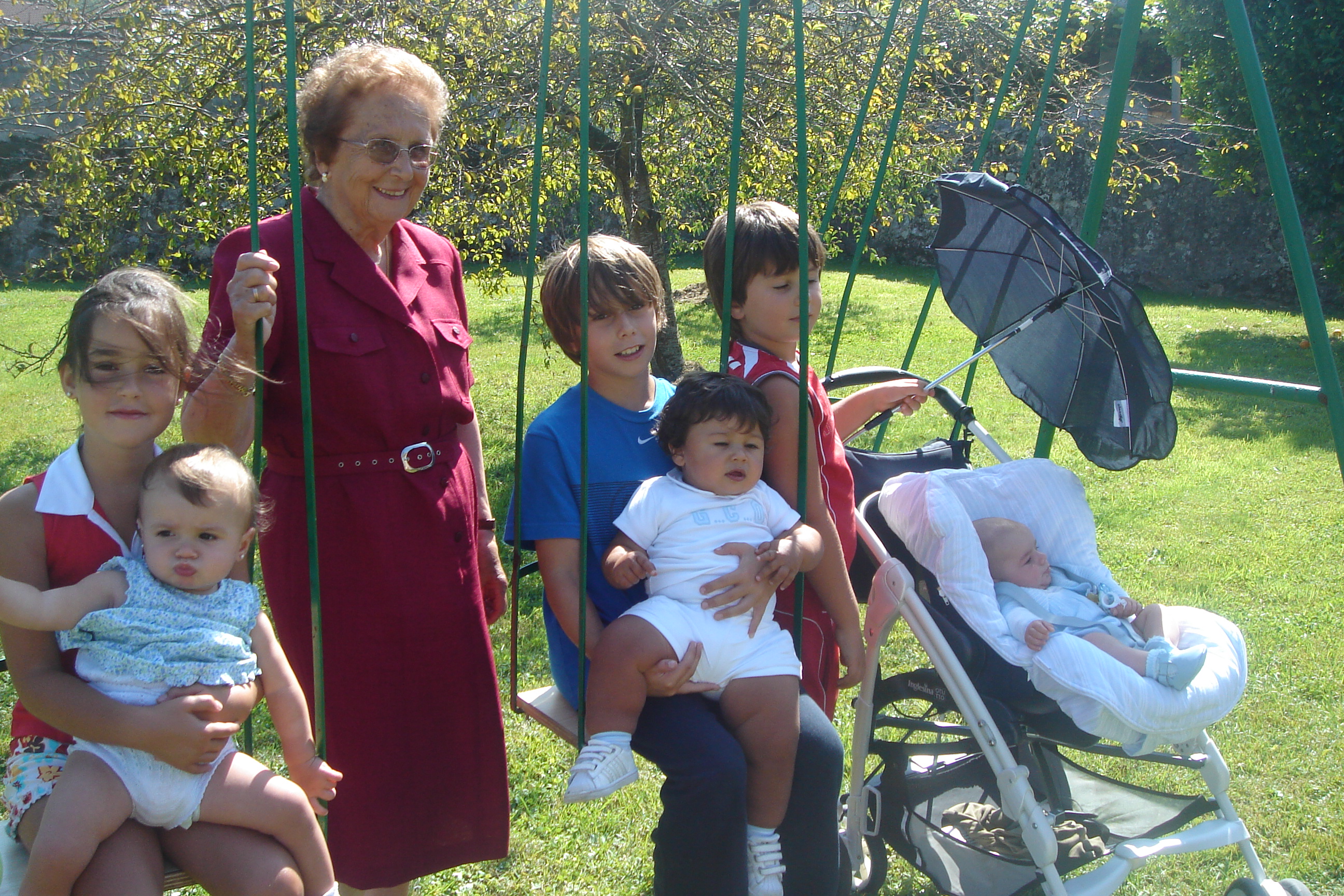 3. Speaking .Guided speaking: questions to discuss+ answers offered by a native speaker  (Flip Cards)
Students in pairs. Display question 1 and allow two or three minutes for students to discuss this question. Flip the card for them to see how a native speaker would answer the question. Follow the same procedure with the rest of the questions.
Conjunto de Fichas creado con GoConqr por cristina.cabal
Freer Practice: pictures to describe and compare.
Freer Practice:conversation questions.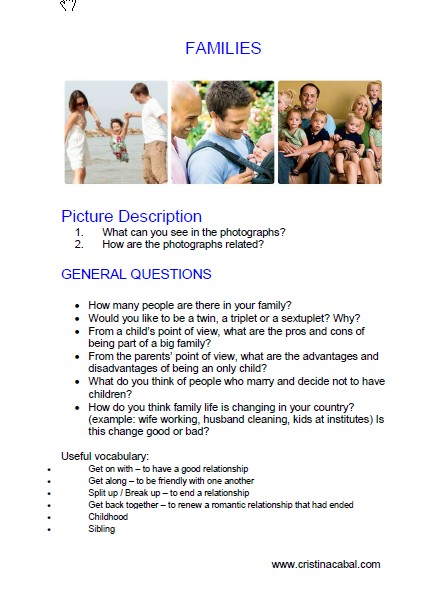 PDF here