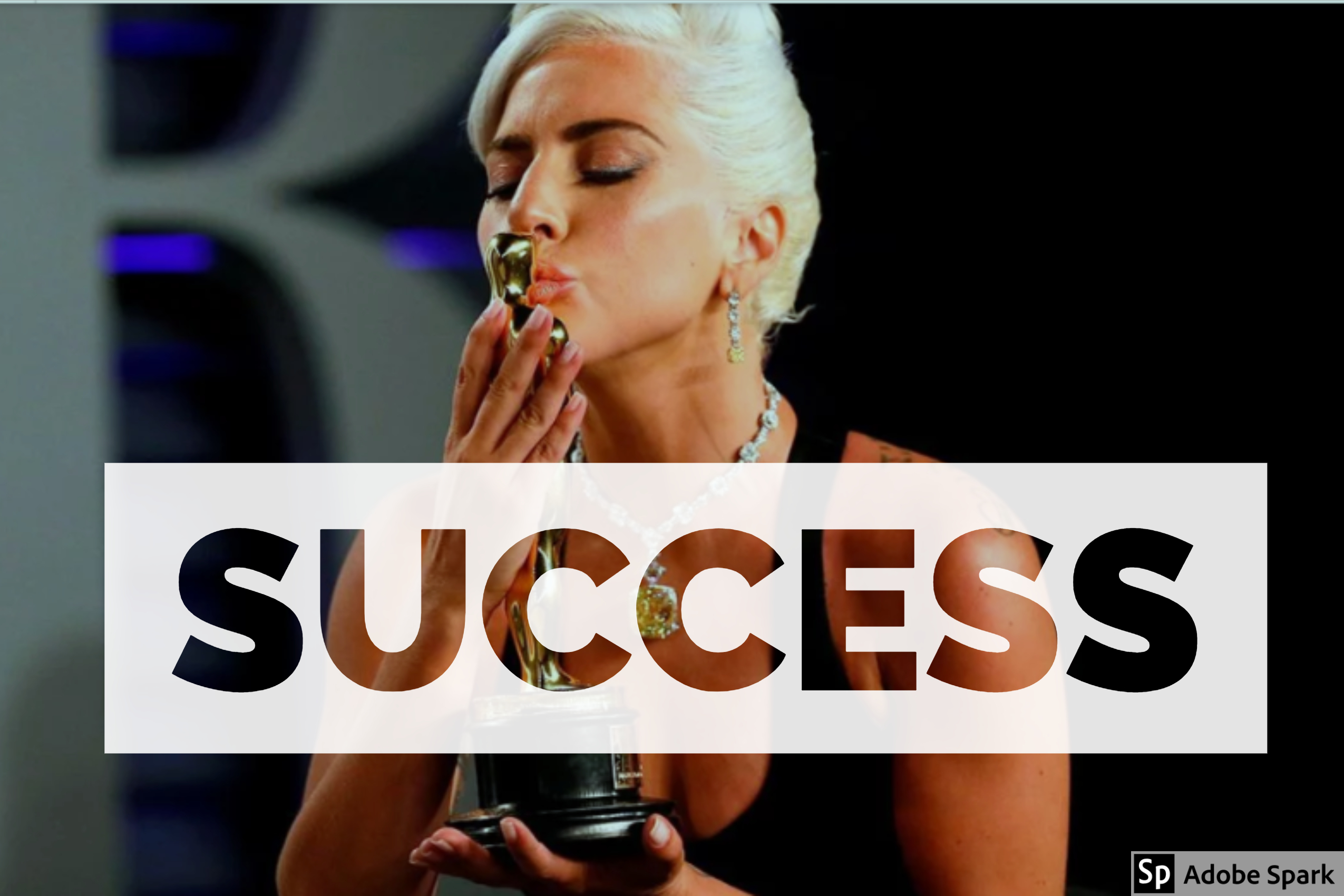 Step 1. Lead-in
Number 1. Display the collage below and ask students whether they know any of these people.  Ask them in pairs to discuss what they have in common.
Ask for feedback. Hopefully, they will tell you what you want to hear from them; that they are all very successful people.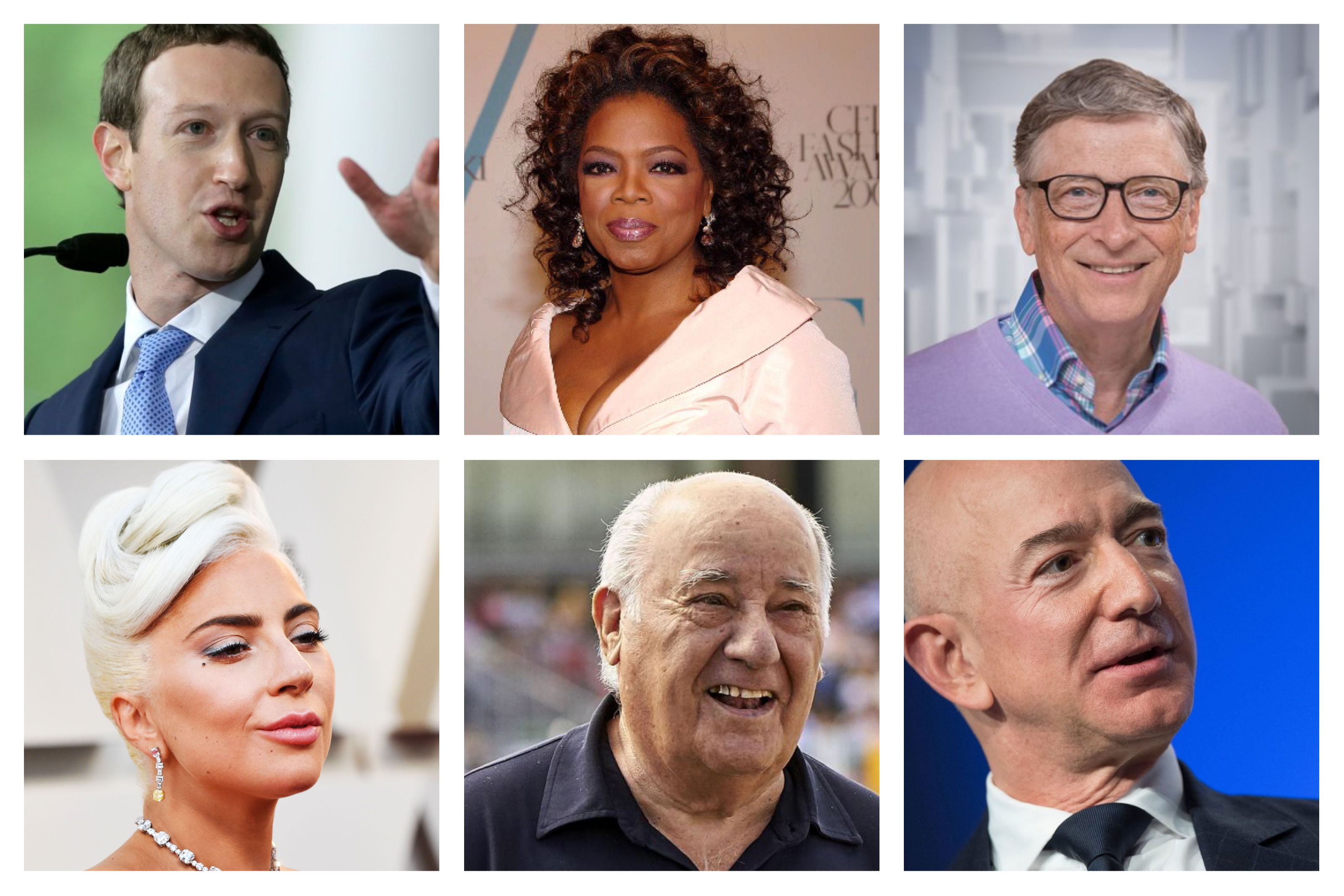 The people below are Mark Zuckerberg, Oprah Winfrey, Bill Gates, Lady Gaga, Amancio Ortega and Jeff Bezos. Just in case 🙂
Number 2. On the board, write the words " success" and "failure". You might want to drill pronunciation /səkˈses/  and  /ˈfeɪljə(r)/. Ask: what are the verbs?  What are the adjectives?
Teach the adjectives successful and  failed  and the verbs succeed in/ at  and fail in.
He is a successful writer/ He is a failed writer.
He has succeeded in life/ he has succeeded at work/ He has failed in his attempt to win the race
Number 3.  Ask students in pairs to brainstorm vocabulary they associate to success and failure. You might want to teach some more advanced vocabulary. Ask students to write three columns on their notebooks ( words related to Success/ words related to failure/ related to both ). Write the words down, one at a time, on the board and ask students to tell you whether they are related to success or failure or both.
to accomplish / accomplishment
to achieve/( remarkable) achievement
to take risks / a risk taker
a visionary
a dreamer
an entrepreneur
an opportunist
to take a chance
to make a fortune
a half-baked idea
to chew over an idea
to be the main breadwinner
to save for a rainy day
unprecedented/modest success
to bring out the best in people
to be doomed to failure
to blow it
to be quite a feat
to suffer a setback
to do something as a last resort
Ask students in pairs to discuss the following questions. Encourage the use of vocabulary
Talk about a successful person you know
Is success important to you?
What is your biggest success in life?
Share with your partner a time when you failed at something. What happened? How did you feel?
Step 2: Listening: Cloze Test
Tell them they are going to see Lady Gaga's acceptance speech at Oscars 2019 for best original song.
Procedure:
Display this gapped text with the OHP or print it. Don't play the video  yet.
Ask students to predict the lexical category or part of speech that could fit each gap: is it a noun, an adjective, a preposition or maybe an article? Allow a couple of minutes for this task. You might want to show an example.
For example, I wrote a letter___ my mother (students will most likely agree, they 'll       need   a preposition to fill in this gap)
Let's start:
Ask students to work in pairs. Ask Student A to face the board. Ask Student B to face away from the board and concentrate on the text.
Tell students you'll write the words on the board in random order, but each of the words will be identified with a number. If you have 9 gaps in the cloze text, you will write the words on the board preceded by the number. Tell Student B to do the same in case he cannot guess a word in the allotted time. For ex: 1. house  2. wrote 3. for.
Write one of the missing words on the board, and ask student A to define the word, or give a synonym or antonym for student B to guess and write down. For example, if the word on the board is "wrote", Student A might say "it's a verb in the past and you use a pen or a pencil to do it".
Tell students you'll write a new word every 30 seconds. If Student B guesses the word quickly, he might try to use the rest of the time (up until the 30 seconds)  to try to place the word in the right gap but tell them you'll not wait.
Continue in the same way until you have written all the missing words. The words should be written in random order.
NOTE: If one of the words hasn't been guessed, at the end of this part Student A will need to try to define the words again. (Remember that the words are still written on the board).  This time, Student A can help Student B  by giving him the first letter.
Once they have all the words, Students A and B will work together to complete the gapped test.
Place a bell on your table and ask the first pair to finish to come up to your table. Silently check that the exercise is correct and if it is, ask them to ring the bell. From that moment, the rest of the class will have one minute to finish the exercise.
The missing words from Lady Gaga's acceptance speech are: 1. sister 2. sung  3. hard  4. winning 5. fight  6. passion  7. fall  8. stand   9. brave.
Don't forget to write the board in random order.
Play Lady Gaga's acceptance speech and ask students in pairs to comment on it and give you feedback.
Step 3: Speaking. Quotes.

Ask students in groups of three to discuss the following quotes. Display the first quote and allow them to discuss it for about 4 or 5 minutes and then get feedback. Display the second one and repeat procedure.