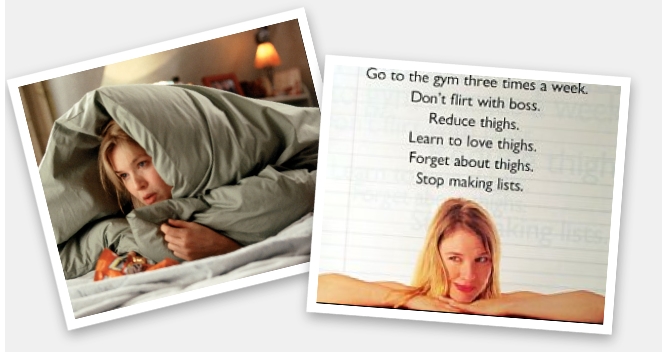 2015  is about to wave goodbye. A new year is starting to blossom and I'm planning to dedicate it my full attention. For a start, I've made some New Year's Resolutions which ,unfortunately, I won't be sharing with you… I apologize!! …and you, have you made any? Do you want to share them with me or are they too personal, maybe?
Well, for my first class with my advanced students, I've thought that a nice way to link last year with this new one would be this video from Bridget Jones's Diary, one of my favourite chick flicks. If you've seen or read Bridget Jones's Diary, you'll know it starts out with her New Year's resolutions: lists of things she will and won't do. These are some of them
I Will Not
Waste money on exotic underwear since pointless as have no boyfriend.
Fall for any of the following: alcoholics, workaholics, commitment phobics, chauvinists, freeloaders, perverts.
Have crushes on men, but instead form relationships based on mature assessment of character.
I Will
Go to gym three times a week not merely to buy sandwich.
Learn to program video.
Give all clothes which have not worn for two years or more to homeless.
Not go out every night but stay in and read books and listen to classical music.
Watch the video and then if you feel like going for the whole lesson I have prepared for my students,  you'll find it here . My gratitude to Jeffrey Hill, who gave me the idea.
By the way, the soundtrack is one of my favourites!!
[flashvideo filename=https://www.cristinacabal.com/videos/bridget.flv /]
Related posts:
Food and cooking. Working with Flickr