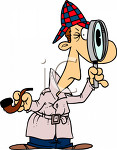 I've been using this idea for quite a long time but though I can remember it was a word of  mouth idea I can't quite say who it came from, so forgive me if you're reading this and I haven't given you any credit.
I've tried this game in the EOI with adults and now I have just tried it with teens and I can say it works very well with both, the only difference being that teens are probably "a bit" noisier .
How to revise: this game requires some preparation. You need to decide beforehand if you are going to revise the whole book or one or two units. Then, you have to write some questions (see my own game for ideas here) with content from the units you want to revise and produce a worksheet.
♥In class, ask students to sit in pairs or threes and give each pair just one photocopy. You don't want everybody in the group to have a photocopy in case they feel tempted to cheat.
♥ Tell them they can use their textbooks, workbooks and notebooks (they're going to love you).
♥ Explain that the aim of the game is to revise, so they will have to be able to give the right answer to each of the questions in the worksheet.
♥ They can only answer one question at a time and they can only start question 2 when they have answered correctly question number 1.
♥ So students in pairs or in threes answer question number 1 and then they rush up to your table. If you put a tick, it means it is correct and they can proceed to question number 2. Othewise, they have to go back to their group and try again.
♥ The winner is the pair who finishes first, obviously! I don't normally take sweets to the classroom, so I give them a Free Homework Pass, which they normally kill to get. I download it from here.