A Thesaurus  

 is a reference book in which words with similar meanings are grouped together ( it contains synonyms and sometimes antonyms).
Try this site and see how a Thesaurus can help you online.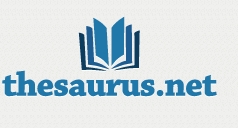 Writing can be a daunting task when you cannot quite think of just the right word to convey your ideas without sounding redundant and boring. A free thesaurus online is an invaluable resource offering expedient gold mines of vocabulary. To check thesaurus sites available can also be time-consuming. However, one site that will place thesaurus synonyms at your fingertips is thesaurus.net. Our free thesaurus online resource offers a thesaurus dictionary online where your only task is to enter a word you find yourself unnecessarily overusing. This English thesaurus will quickly provide an array of possible synonyms that can be used to enhance writing.