Introduction: Many countries in the New World and elsewhere officially celebrate as a holiday the anniversary of Christopher Columbus' arrival in the Americas, which happened on October 12, 1492. The landing is celebrated as Columbus Day in the United States, as Discovery Day in the Bahamas, as Día de la Raza ("Day of the Race") in many countries in Latin America, as Día de las Américas(Day of the Americas) in Belize and Uruguay, as Día del Respeto a la Diversidad Cultural (Day of Respect for Cultural Diversity) in Argentina, as Día de la Hispanidad and Fiesta Nacional in Spain, and as Giornata Nazionale di Cristopher Columbus or Festa Nazionale di Cristoforo Colombo in Italy and in the Little Italys around the world. These holidays have been celebrated unofficially since the late 18th century and officially in various areas since the early 20th century. (source Wikipedia)
THE TASK: LISTENING 
Level: B2
Watch the video from newsy.com  about Columbus' Day and answer the questions below:
Unfortunately,newsy.com doesn't allow embedding so you'll probably need to open a new window to listen and see the exercises at the same time.
♥Click on the picture to listen
♥Answer the questions. Download questions
♥Click here to see the answers and the transcript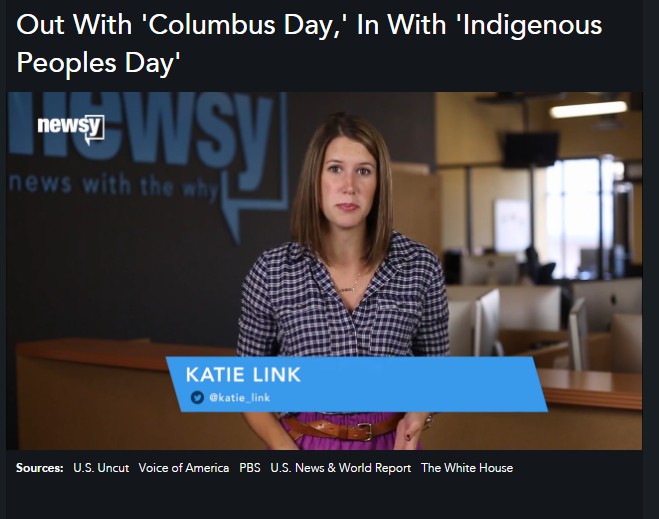 True or False? Correct the False Sentences
The idea of renaming Columbus Day has been going on for a while. True or False?
So far, only Seattle has been able to change the name of the day . True or False?
The American Indians want to rename the day so that nobody forgets the difficulties they have had to endure . True or  False?
 The USA government is considering renaming the day next year.  True or False?
Name four things, Columbus is blamed for
a.
b.
c.
d.