I firmly believe that the way you present things to your students matters. From boring points of grammar to challenging speaking activities, there is always a way to get their attention. I am of the opinion that students learn much better if you completely discard from your teaching the idea of boring master classes where the only person in the room seems to be the teacher and choose instead a more interactive approach. I try hard not to forget this student-centered approach during the whole lesson.
There is also something I try not to forget. You learn better when you have fun! And here we go, for a lot of fun!!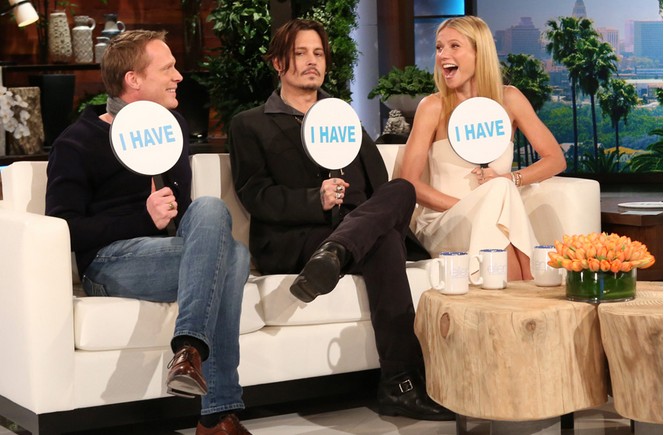 Image by Michael Rozman/WarnerBros
Skill: Speaking
Level: B1 upwards
Aim: using the Present Perfect to talk about experiences.
You never know where and who you'll get inspiration from! I got the idea for this Speaking Activity watching Ellen Degeneres show.Have you ever seen her show? It's hilarious! Anyway, she's got a section called "Never Have I Ever" where she asks her guests questions and they need to put up a sign with the words Yes, I Have or I Have Never.
This hilarious speaking activity is fairly simple and requires little preparation.
♥Ask students to write on a different sheet or slip  of paper the short answers  Yes, I have and I have never "
♥ Tell them you are going to ask a question to the whole class.
♥ Ask them to answer  your question by putting up the YES, I HAVE or I HAVE NEVER sign
♥ Ask some students to explain their answers.
It'll certainly be funnier if you choose to ask some spicy questions like the ones Degeneres posed to her guests.
Do you want to try? How would you answer these questions?
Have you ever skipped school?
Have you ever fallen asleep in the cinema?
Have you ever been to a nude beach?
Have you ever done something you regret?
Have you ever read a whole Harry Potter book?
Have you ever drunk while underage?
Have you ever had an accident?
Have you ever kissed someone on the first date?
Have you ever read the Bible?
Have you ever aced a test without studying?
Have you ever passed out?
Have you ever slept until 5 pm?
Have you ever eaten food that fell on the floor?
Have you ever tried to cut your own hair?
Have you ever lied to get a job?
Have you ever regifted something that was gifted to you?
have you ever given a stranger a fake phone number?
Have you ever met someone famous?
Like my blog? Follow me on Facebook
Learn English and Have Fun!