This is a post I've been wanting to write for a long time. Some people collect coins or postcards and I… I collect digital tools. 🙄  Well, I also like watching tutorials. OMG! Come to think of it, do I qualify as a freak? The irony is that though I use tools to curate and organize my findings: Pinterest, Sites, Wakelet, Pearltress… you name it, the shoemaker's son always goes barefoot.
And, much to my chagrin, it appears that I have been adding tools to this list in a fairly haphazard manner with the result that I have so many of them that I've opted to include just a few and may create a Part 2 if you find this post useful.
What is mind-blowing  about them is that:
They are free
They are online
You don't need to register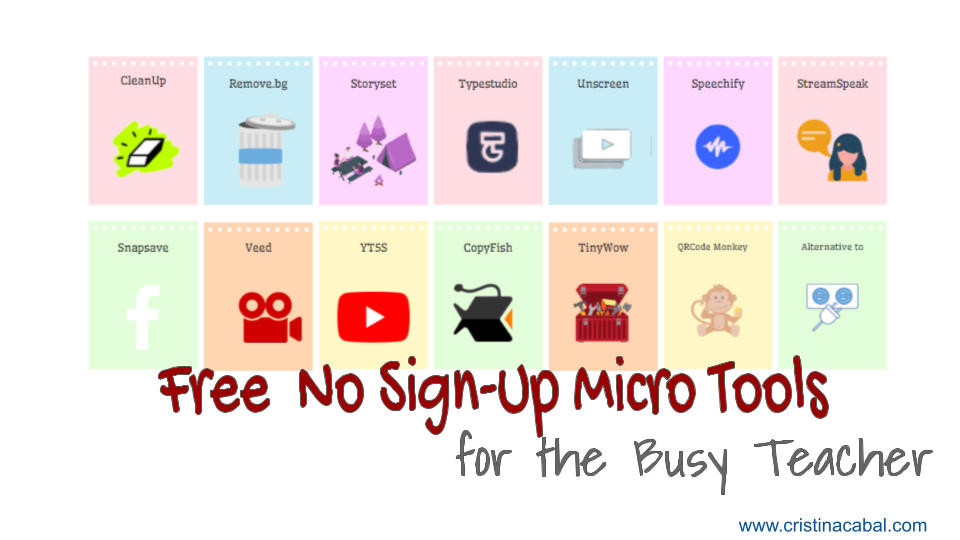 I have tried to organize them into categories and add a bit of everything. For better or for worse, some of them are multifunctional and don't fall into just one category.
                                     IMAGES
Removing a person/object from a picture. You need Cleanup Pictures: Upload the photo, choose the brush size, paint the area you want to remove and download your new photo. In some cases, you might need to paint the area twice. The 0:20 video below shows how to do it.
delete elements
change the colour of the illustration
animate one or all the elements in the illustration
download it as a GIF or MP4
                                    VIDEO 🎥
TypeStudio is just awesome. It is a new approach to editing a video, text-based. That means you edit your video by just editing the transcribed text. You can also add subtitles automatically, turn the video into a blog article and everything runs online in your browser. How to go about it:
upload the video
the screen will be split into two parts. On the left, you will see the transcript for the video and on the right, your video.
Now, you will be able to edit the transcript by deleting a word or words from the video. It is like magic! Imagine the possibilities for language learning.
Removing or changing the background from a video clip. Go to Unscreen.com. The 0:40 video below shows how to do it.
Facebook is blocked in your school? Then, you need Snapsave. Just copy the link of a video that you wish to download, then paste the link in SnapSave and select the video quality that you want to download.
Automatically or manually adding subtitles to a video, go to Veed. Veed is a free editing video tool with lots of possibilities.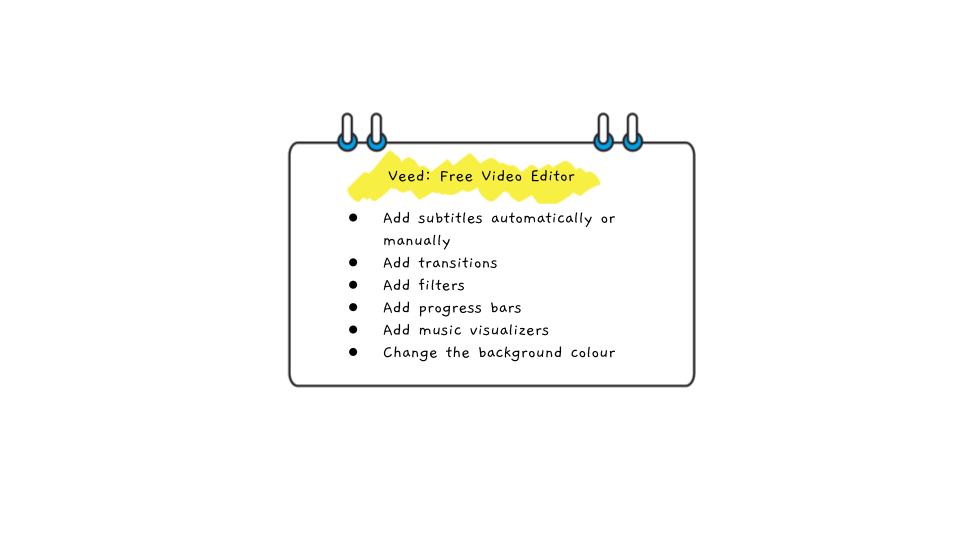 Downloading a Youtube Video, go to YT5s 
Downloading the audio from a Youtube Video, go to YT5s and paste the link. Downside: it has some annoying ads and you will probably need to close some pop-ups and probably a window. Other than that 😉  it works fine
Free downloadable video clips, sound effects and images for your projects on MixKit
                               DOCUMENTS
Editing a PDF, go to PDFescape.  Upload a PDF and…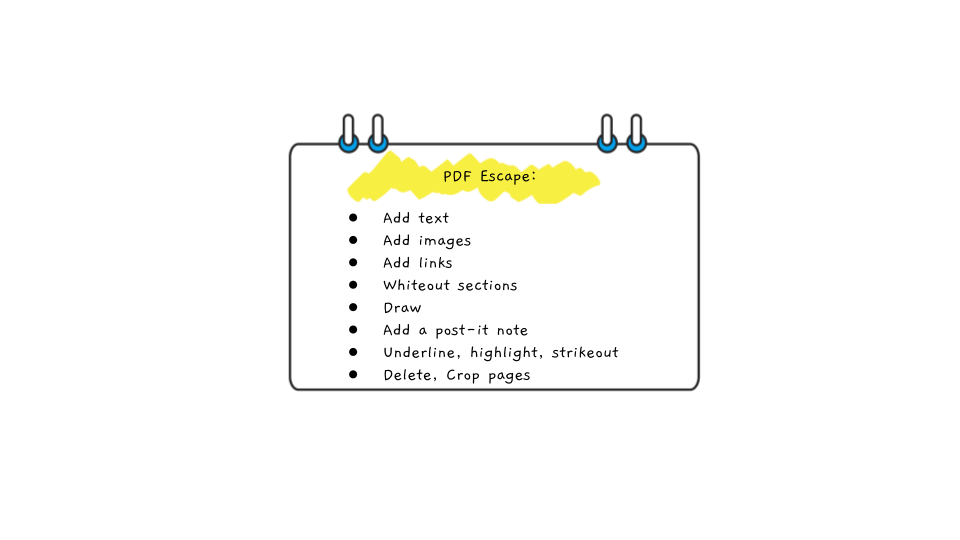 Extracting text from online images, PDFs or Websites, you need CopyFish, a Chrome extension. The 0:52  video below shows how to do it.
                              MULTI-PURPOSE
Tiny Wow is a wow of a tool.  It works with PDFs, videos, images and URls. Remember you don't have to register. Files are deleted after 15 minutes.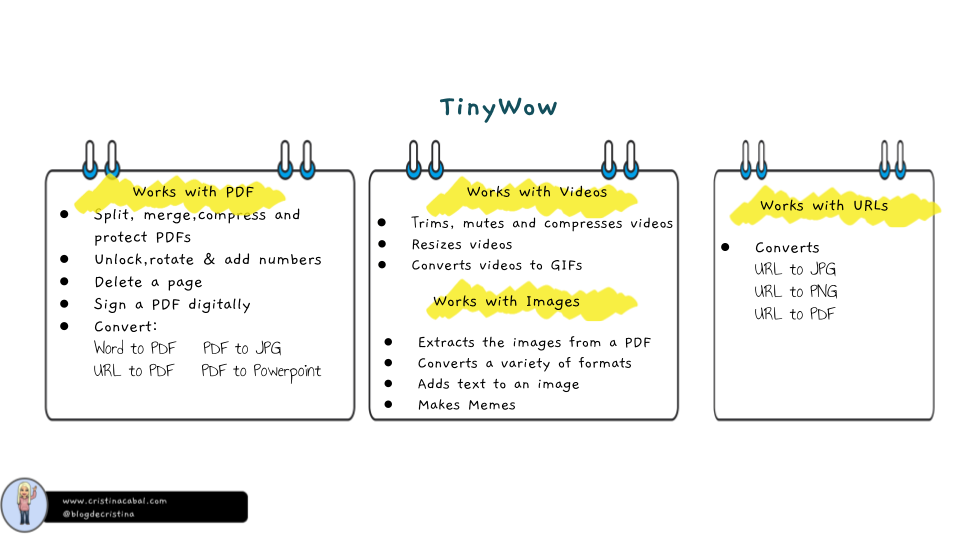 Converting a myriad of media files from one format to another, go to Onlineconverter is just what you need to convert
audio
ebooks
images
files
etc…
                                     READING
Speechify This is a Chrome extension that when installed reads any text. Great to practise pronunciation and boost reading fluency.
Text to downloadable speech? Yes! Go to Speak. Voice clips are up to 300 characters but if you register (free), you get clips of up to 1,000.
Don't know what to read next? Go to Whichbook and choose your next book based, for example, on your mood.
                               MISCELLANEOUS
If you have found some of these tools useful, share this post it with someone who might need it!
Happy and Healthy New Year!
Blog de Cristina is on Facebook and on Twitter. Don't miss any of my posts or other resources that I share on social media.